27 Unmissable Things to Do in Golden, Colorado – Best Outdoor Activities, Museums, and More!
If you're looking for the best things to do in Golden, you've come to the right place! There's a reason we made Golden, Colorado our home sweet home. This charming town known as "Where the West Lives" offers the best of both worlds. Golden offers the culture and convenience of a small city and the outdoor adventure opportunities you want from a town in the Front Range of the Rocky Mountains. Located just a half hour from Denver, Golden is an easy day-trip destination or weekend getaway where you'll feel far away from busy city life.
As Golden residents, we are proud to share all the best things to do in Golden! We've spent countless hours exploring our backyard. It seems like the more we do, the more we end up adding to our Golden bucket list! Whether it's as calm as fly fishing or adrenaline-pumping as white water rafting, we cover the best outdoor activities, museums, restaurants, and festivals plus even more things to do in Golden!
Read on to discover the best things to do in Golden, Colorado, the portal to the Mountain West!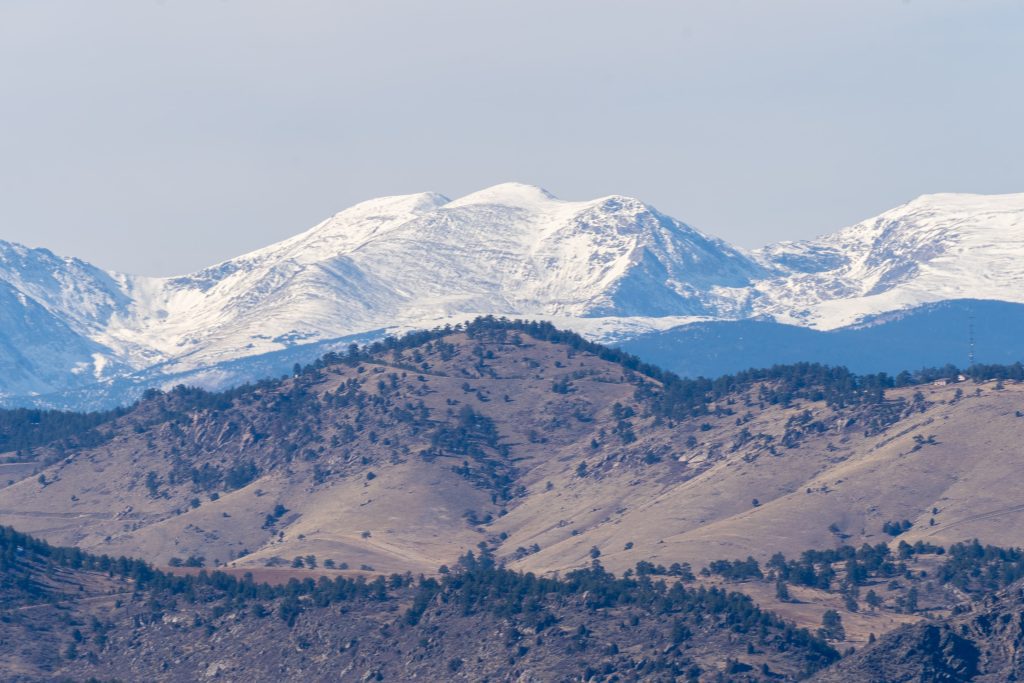 1. Hike the Best Trails in Golden
Golden is one of the best hiking destinations in the Front Range, and with its proximity to Denver, it's an easy way to get out of the city and into the mountain air! Most of the hiking trails are also mountain bike and pet friendly. There are plenty of easy trails, most of which are at lower levels of elevation (for Colorado anyway!), so hiking is a great thing to do in Golden before you hiking at higher altitudes to help you get acclimated!
Our favorite place to hike in Golden is Golden Gate Canyon State Park. This park has several hiking trails of varying lengths and difficulty, from super chill hikes suitable for young children, as well as more moderate-to-difficult options. We particularly like the Raccoon Trail and the Blue Grouse Trail to John Frazer Cabin.
Pro Tip: Visit Golden Gate Canyon State Park in the fall to see the aspens turn their magical yellow hue!
Lookout Mountain Park and North Table Mountain Park are also great places to hike in Golden and are close to downtown. If you're looking for more alpine and snow-capped mountain views, you should go to Lookout Mountain. If you're short on time, head to North Table Mountain for views of the surrounding foothills, and, on a clear day, the Denver skyline.
Other popular places to hike in Golden are Apex Park, Clear Creek Canyon, and Centennial Cone.
2. Go Whitewater Rafting in Clear Creek
Even if you have never whitewater rafted before, going on a rafting trip in Clear Creek is hands down one of the best things to do in Golden. Just minutes from downtown are some of the best spots to put in for a rafting adventure, again proving that Golden is the perfect mix of city and nature!
The rushing waters of Clear Creek are fed by snowmelt and run-off, creating rapids ranging from gentle to intense. The best time of the year to whitewater raft in Golden is in the spring and summer when the water is flowing most heavily from the snowmelt.
Whether you are a seasoned rafter or a beginner, there are a variety of guided tours that cater to your skill level and preferences. Experienced guides provide instructions on paddling techniques, safety measures, and local history to ensure a safe and memorable experience. Here are some popular white water rafting tours in Clear Creek you can book!
3. Go Tubing in Clear Creek
If whitewater rafting isn't your speed, you can slow things down by going tubing in Golden! Clear Creek is a popular tubing spot for locals and visitors alike.
Close to the city of Golden, Clear Creek flows much more gently than further upstream. With its gentle currents, small rapids, and scenic views of the Rocky Mountains, Clear Creek provides an ideal setting for tubing enthusiasts of all ages and skill levels.
Several tubing rental companies in Golden provide rental services for inner tubes, transportation to and from the creek, and instructions on safety measures. You can even rent tubes from shops right in downtown Golden at Adventure West.
Always make sure you check water conditions before embarking on your tubing adventure, as high water levels can make tubing dangerous. Sadly, there have been deaths in the past. Lastly, we recommend watershoes (we like Chacos), sunscreen, and plenty of water to stay hydrated.
4. Go Fly Fishing
Golden is renowned for its world-class fly fishing opportunities. With its pristine waters, abundant fish, and stunning mountain scenery, Clear Creek is a fly fisherman's paradise, offering fly fishing enthusiasts the chance to catch a variety of trout species, including brown, rainbow, and cutthroat trout.
You're probably catching on that Clear Creek is one of the best outdoor adventure spots in Golden! Unlike tubing or whitewater rafting, however, fly fishing in Clear Creek requires patience and a desire to slow down and experience nature's calm.
New to fly fishing? Golden is home to several fly fishing outfitters that offer guided tours for beginners and experienced anglers alike. Check out Golden Fly Shop or Golden River Sports for fly fishing gear rentals and tours in Clear Creek. These tours include instruction on casting techniques, fly selection, and other essential skills to help you get the most out of your fly fishing experience.
5. Rock Climb in Golden
Golden is home to several popular rock climbing areas, including North Table Mountain and Clear Creek Canyon. These areas offer climbers a variety of routes, ranging from beginner-friendly to challenging, multi-pitch climbs for experienced climbers.
The rugged sandstone cliffs of North Table Mountain provide some of the best rock climbing in Golden. The panoramic views of the Rocky Mountains from the top of the cliffs are breathtaking and provide a stunning reward for your efforts.
Clear Creek Canyon is another popular rock climbing destination that offers a variety of routes for climbers of all levels. The canyon features narrow gorges and steep cliffs that are perfect for technical climbing and bouldering. Climbers can also enjoy the scenic beauty of Clear Creek as they make their way up the canyon walls.
Golden is home to several rock climbing outfitters that offer guided tours and equipment rentals for climbers of all levels. These tours include instruction on climbing techniques, safety measures, and other essential skills to ensure that your climb is both safe and enjoyable.
6. Visit Dinosaur Ridge
Dinosaur Ridge near downtown Golden is a world-famous geological and paleontological site. It is a must-visit destination for anyone interested in the fascinating history of dinosaurs and the earth's ancient past!
Dinosaur Ridge is home to a variety of dinosaur fossils and tracks that date back over 150 million years. The highlight is the impressive rock wall of dinosaur tracks, considered by paleontologists as the most impressive and important example of dinosaur footprints on earth!
You can see the tracks on the Dinosaur Ridge Trail, a one-mile walking trail that takes visitors on a journey through time. There are several interpretative boards alobg the trail, but fo ra more immersive experience, you can book a tour.
Tip: Be sure to check out the view of Red Rocks Park and Amphitheater from the trail, too!
7. Ride a Train at the Colorado Railroad Museum
For a more relaxed activity in Golden, Colorado, head to the Colorado Railroad Museum to explore the history of trains in the state. The museum features over 100 locomotives and cars and even has a train ride for visitors.
One of the highlights of the museum is the collection of historic trains and locomotives that are on display. In addition to the trains themselves, the museum also features exhibits on the history of railroading in Colorado, including its impact on the mining industry, agriculture, and transportation. Visitors can explore the exhibits and learn about the challenges and triumphs of the people who built and operated these impressive machines.
For those seeking a more immersive experience, the museum offers train rides on a historic steam locomotive. The train takes visitors on a scenic tour of the surrounding countryside, providing stunning views of the Rocky Mountains and the foothills. Tickets sell out frequently, so be sure to book in advance!
8. Take the Coors Brewery Tour
You've probably heard of the Coors Brewery, but did you know it's located right in Golden, Colorado? The Coors Brewery has been producing some of the world's most popular beers for over 140 years.
The Coors Brewery Tour is a must-visit destination for beer lovers and anyone interested in the history and science of brewing. The brewery tour takes visitors on a journey through the entire brewing process, from the raw ingredients to the finished product.
This was one of the first activities Tim and I did in Golden. We had a great guide who was enthuasiastic and told us all about the history of the Coors family and the evolution of their beers. A highlight of the tour for us was visiting the brewhouse with its massive vats and machinery. The tour also includes plenty of samples, and we even got to keep the souvenir aluminum cups they served us with!
Be sure to book your Coors Brewery tour tickets in advance! You can do so on via the Coors Brewery Tour website.
9. Visit the Buffalo Bill Museum and Grave
Visiting the Buffalo Bill Museum and Grave is one of the best things to do in Golden, Colorado to learn about the life of one of America's most famous cowboys. The museum features exhibits about Buffalo Bill's life and legacy, as well as a beautiful view of the mountains.
Located on Lookout Moutain, the Buffal Bill Museum features a variety of exhibits and displays that showcase Buffalo Bill's life and achievements, as well as the history of the American West. Visitors can explore artifacts, photographs, and memorabilia from Buffalo Bill's life, including his Wild West Show, which traveled across the United States and Europe, entertaining millions of people and shaping the world's perception of the American West.
We also really enjoyed the short film that summarizes Buffalo Bill's life and impact. It helped put the artifacts into context!
Tip: While on Lookout Mountain, don't miss the Boettcher Mansion. This historic mansion was built in 1917 and features beautiful architecture amidst mountain views.
10. Take a Walk Through Downtown Golden
Downtown Golden has tons of restaurants, shops, and attractions all within walking distance. For a walking tour that strings together several of the best things to do in Golden, we recommend using this map we created of all the best things to do in Golden to create a walking route based on your interests!
You'll see that most things to do are located right downtown, including the Golden History Museum, Coors Brewery, river tubing, shopping, and more. Click here to open the map of Best Things to Do in Golden, Colorado and see a categorized list of all of the locations
11. Visit the Golden Farmers Market
Visiting the Golden Farmers Market is a must-do activity for anyone who loves fresh produce, handmade crafts, and delicious food and drinks. The market takes place on Saturdays from June through October and is located in the heart of downtown Golden.
At the market, you'll find a wide variety of vendors selling locally grown fruits and vegetables, homemade baked goods, artisanal cheeses, and much more. You can also browse through a range of handmade crafts, from jewelry and clothing to pottery and artwork.
The market is a great place to meet locals and experience the vibrant community of Golden. It's also a family-friendly destination, with plenty of activities for kids, including face painting and live music.
12. Go to Buffalo Bill Days in July
Buffalo Bill Days is an annual festival that takes place in Golden, Colorado, in honor of the legendary Wild West showman, Buffalo Bill Cody. The festival typically occurs in late July or early August.
The festival features a variety of activities and events, including a parade, a car show, live music and entertainment, and a range of food and drink vendors. One of the highlights of Buffalo Bill Days is the Best of the West parade, which features floats, marching bands, and local organizations showcasing their creativity and spirit.
Tip: If you are visiting Golden during Buffalo Bill Days, be sure to also check out the Buffal Bill Museum and Grave on Lookout Mountain so you can have a deeper appreciation of the history behind the festival!
13. Celebrate Goldens in Golden
Goldens in Golden is a celebration of golden retrievers in downtown Golden. The even takes place every February (weather dependent!) and is the most adorable festival you will ever attend. Imagine a downtown street packed with dogs and their humans, and that is Goldens in Golden. During the festival weekend, local businesses offer special pet-friendly packages, so if you travel with your pup and plan to visit Golden in February, be sure to check it out!
Stay in the know on event dates and schedules on the official Goldens in Golden festival website.
14. Dine in a Yurt at Sherpa House
The Sherpa House Restaurant is a unique and authentic Nepalese and Tibetan restaurant owned and operated by a Nepalese family who bring their cultural heritage and culinary expertise to the menu.
The atmosphere at Sherpa House is warm and inviting, with traditional Nepalese decor and cozy seating. The menu features a variety of dishes that are inspired by the Himalayan region, including popular Nepalese and Tibetan dishes such as momos, curries, thukpa, and tandoori. There aren't many options for South Asian cuisine in Golden, but thankfully Sherpa House overdelivers with a unique and authentic atmosphere and delicious food!
Tip: Ask if there is any available seating in the yurt for a unique dining experience at the Sherpa House!
15. Grab a slice at Woody's Wood-Fired Pizza
Woody's Wood Fired Pizza is a popular wood-fired pizzeria located in downtown Golden, Colorado. This locally owned and operated restaurant is known for its delicious, authentic Neapolitan-style pizza and its warm and inviting atmosphere. It's a local favorite, so get here early on weekends if you want to dine in! Otherwise, we recommend picking up a pizza to go and enjoying a picnic in one of Golden's parks or along the Clear Creek.
16. Enjoy a fancy coffee at Windy Saddle Cafe
The Windy Saddle Cafe is a cozy and welcoming cafe downtown that offers a range of delicious breakfast and lunch options. What won me over, however, were the fun and unique coffee and espresso drinks they serve. My personal favorite is the Gold Digger, inspired by Golden's mining history and made with espresso, caramel, chocolate sauce, whipped cream, and milk. It's dessert for breakfast with a dose of caffeine!
The food menu at Windy Saddle Cafe features a variety of breakfast burritos, breakfast sandwiches, and quiches. Additionally, there is a bakery case that offers a range of fresh-baked goods such as muffins, scones, and pastries.
17. Get a Flight or a Growler at Barrels and Bottles Brewery
Barrels and Bottles Brewery is a charming craft brewery that offers a rotating selection of craft beers, as well as a selection of wine, making it a great spot for beer enthusiasts and non-beer drinkers alike.
Visitors can enjoy their beer flights and pints while sitting at the bar, at a table, or on the outdoor patio.
One unique aspect of Barrels and Bottles Brewery is their "Bottle Shop," which offers growlers of craft beers and bottles of wines for purchase to take home. This is a great way to try some of their delicious brews at home or to bring a gift for a beer-loving friend!
18. Eat and Drink at Golden Mill
One of our favorite food and drink experiences in Golden is the Golden Mill. This fun and innovative food hall doubles as a serve-yourself brewery. When you arrive to Golden Mill, you put your credit card on file and they issue you a card to swipe at the food stalls and drink taps inside. It's the easiest and most fun way to enjoy a variety of beers and sample food from several vendors. If you want pizza AND barbecue, you can have it at Golden Mill.
Overall, it's a fun, laid-back, and social place to hang out and enjoy a few drinks and some bites. We especially love it in summer when you can sit on the patio and enjoy the views of Table Mountain.
19. Go to a concert at Red Rocks – or even a hike
Red Rocks Amphitheatre, in Morrison, Colorado, just a short drive from Golden, is one of the most iconic music venues in the world, known for its stunning natural beauty and unparalleled acoustics. The amphitheatre is surrounded by stunning red rock formations that provide a breathtaking backdrop for concerts and events.
Red Rocks has been hosting concerts and events for over a century, and it has become an iconic destination for music lovers from around the world. Legendary musicians have performed at Red Rocks over the years, including The Beatles, U2, and The Grateful Dead.
Red Rocks is more than just a music venue! The amphitheater is surrounded by a network of hiking and biking trails, making it a popular destination for outdoor enthusiasts. You can take a scenic hike before or after a concert, or join locals for sunrise and sunset on the trails.
20. Brunch at Cafe 13
Cafe 13 is my favorite brunch spot in Golden. It's also my favorite coffee shop to work from when I feel like a change of scenery from my home office! The cafe specializes in serving up delicious breakfast and lunch dishes, along with freshly brewed coffee and tea. I usually order their loaded avocado toast with a cappucino.
In the summer, a coveted spot on the outdoor patio at Cafe 13 is the perfect way to start the day. But, if you can't linger, you can grab and go as well!
Tip: Colorado is famous for its green chilli, and Cafe 13 makes their own in-house. Enjoy!
21. Golden History Museum and Park
If you're a history buff, you won't want to miss the free Golden History Museum, located in downtown Golden. The museum features dynamic displays that showcase the city's collection of 15,000 historic objects, as well as versatile programming spaces and a hands-on gallery for families with young children. The museum is open Tuesday to Saturday from 10 a.m. to 4:30 p.m.
Near the museum and affiliated with it, you can step back in time and experience life as a homesteader at Golden History Park, formerly known as Clear Creek History Park. This historic site features original buildings from the Pearce Ranch, one of the largest ranches in the area in 1912. Stroll through the park and peek into real 1800s cabins, as well as other buildings from the ranch, including a barn, chicken coop, and two-seat outhouse. You can also visit the 1876 Guy Hill schoolhouse, which was moved to Golden in 1976. Admission is free, and the grounds are open daily from 5 a.m. to 11 p.m. Check out the events schedule to see when the buildings are open for visitors, and be sure to chat with the friendly volunteers who serve as interpreters within the historic structures. The park is located at 11th & Arapahoe.
Whether you are a history buff or just want to deepen your appreciation and knowledge about the Golden area, the Golden History Museum and Park is one of the best things to do in Golden!
22. American Mountaineering Museum
The American Mountaineering Museum is a unique and fascinating museum dedicated to preserving the history and culture of mountaineering and rock climbing in North America. Inside the museum, visitors can explore a range of exhibits that showcase the evolution of mountaineering gear and techniques, as well as the stories of famous climbers and expeditions.
Whether you're an experienced climber or just curious about the history of mountaineering in North America, the American Mountaineering Museum is one of the best museums in Golden.
23. See a Moon Rock at the Free Mines Museum
The Mines Museum, also known as the Colorado School of Mines Geology Museum, is a fascinating destination for anyone interested in geology, mining, and mineralogy.
The museum features a wide range of exhibits that showcase the history of mining and geology in Colorado and beyond. Visitors can explore interactive displays that demonstrate the process of mining and mineral extraction, as well as learn about the different types of minerals found in the region.
In 1974, Nixon gifted each state and 160 countries with two "Goodwill" moon rocks from the Apollo 17 mission. One of Colorado's moon rocks has been on display at the State Capitol, and the other was thought to be lost until 2010. Now it's one of the most interesting pieces on display at the Mines Museum.
This is a particularly great activity to combine with Dinosaur Ridge, since the two attractions are nearby to one another and align with a similar interest in paleontology and geology!
24. Take a Self-Guided Public Art Walking Tour
Golden is home to over a dozen works of public art, ranging from statues to beautifully painted murals on buildings. Use the map below to guide your own walking tour of Golden's public art! This is one of the best free things to do in Golden and is perfect for families, friends, or even a date night.
25. Visit the Foothills Art Center
The Foothills Art Center is a non-profit organization dedicated to promoting and celebrating the arts. The center features a wide range of rotating exhibits and events that showcase the work of local and national artists. The center's galleries feature a diverse range of artwork, including paintings, sculptures, ceramics, and photography.
The Foothills Art Center also offers a variety of educational programs and classes for both adults and children. Workshops, lectures, and demonstrations are held throughout the year, covering topics such as painting, drawing, sculpture, and printmaking.
26. Drive the Lariat Loop National Scenic Byway
The Lariat Loop is a 40-mile Colorado Scenic & Historic Byway that combines several smaller roads, including Denver's Mountain Park system, to offer breathtaking views of the Front Range. The Loop starts in downtown Golden, where you can grab a coffee or picnic to go and begin your drive up Lookout Mountain, a 4.3-mile road that climbs 1,300 feet with drop-offs and viewpoints.
The road continues to the 7,379-foot summit of Lookout Mountain. The loop then heads to Genesee Mountain Park and the buffalo overlook, where you can see Denver's herd of 40 buffalo and enjoy a snowcapped mountain panorama. There are over 40 points of interest on the Lariat Loop. Read about them all here.
27. Bike the Clear Creek Trail
The Clear Creek Trail is one of the most beloved paved bike paths in the Denver metropolitan area and one of the best things to do in Golden! The trail spans 19 miles alongside the beautiful Clear Creek, starting in Clear Creek Canyon and ending at the South Platte River where it meets with another 40-mile paved bike trail. The route is shaded with trees for almost its entire length, offering a peaceful and scenic experience with the relaxing sound of rushing water.
As you ride along, you will be immersed in the history of the region, where the big gold strikes of Central City and Black Hawk were discovered in the mountains. The trail also passes by the Coors Brewery and the Colorado Railroad Museum.
Tips for Visiting Golden, Colorado
Now that we've covered the best things to do, here are some additional tips and logistics to help you further plan your trip to Golden, Colorado!
Where to Stay in Golden, Colorado
Take a look at these highly-rated hotels in downtown Golden!
Best Time of the Year to Visit Golden
Are you unsure of the best time to visit Golden, Colorado? To be honest, Golden is an awesome destination year-round. And I'm not just saying that because we live there!
The spring months in Golden offer mild temperatures and fewer crowds, making it the perfect time to explore the great outdoors without the summer heat. You can go hiking, and biking, and enjoy several other outdoor activities. However, the weather can be unpredictable, with occasional snowstorms and rain, and some tourist attractions may not be open until late spring.
Summer in Golden brings warm weather, long days, and plenty of outdoor activities such as kayaking, paddle boarding, and hiking. The town also hosts several outdoor concerts and festivals. However, it can get crowded, with long wait times and lines at popular attractions, and temperatures can become quite hot.
Fall is undoubtedly the best time to visit Golden. You can enjoy mild and comfortable weather and the stunning fall foliage for which Golden is famous.
The winter months offer beautiful snow-covered landscapes, skiing and snowboarding opportunities at nearby resorts, and fewer crowds. However, some attractions may have reduced hours or be closed altogether, and the weather can be cold and unpredictable. It's important to be prepared for snow and ice on the roads, especially if you plan on driving in the mountains.
What to Pack for Golden, Colorado
Assuming you'll be doing some outdoorsy activities like hiking on your visit to Golden, Colorado, here are some items we recommend packing.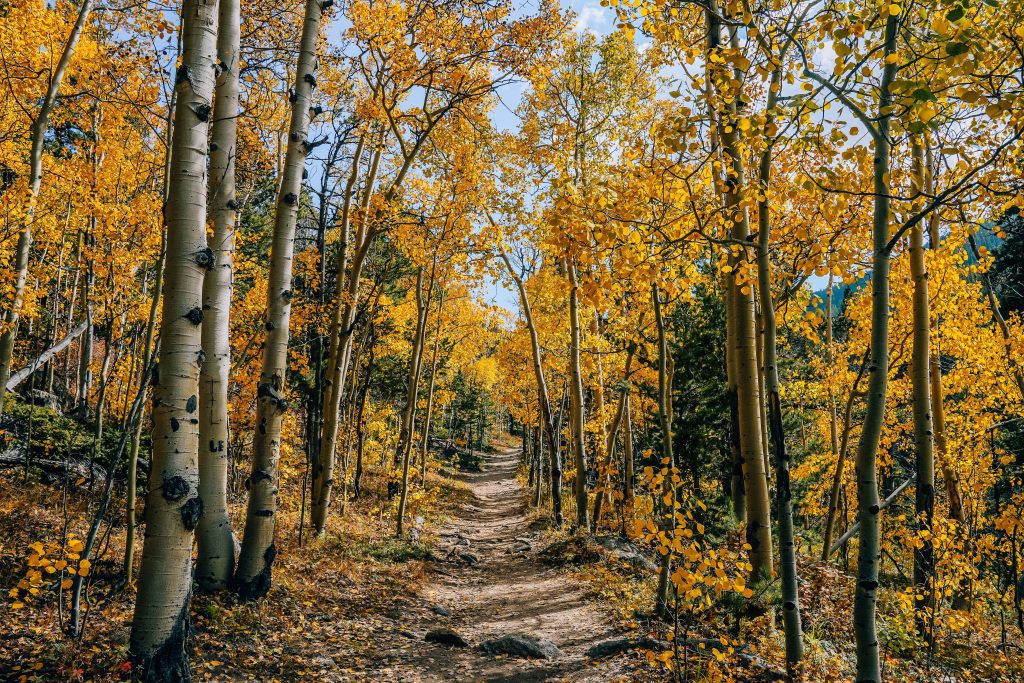 More Golden, Colorado Travel Inspiration
Final Thoughts on the Best Things to Do in Golden, Colorado
Are you planning a trip to Golden, Colorado? Drop us a line and say hello! We'd love to answer any questions you have about our beautiful town.
We hope this ultimate guide to the best things to do in Golden, Colorado gives you some ideas and inspiration for your next Colorado vacation, weekend getaway, or even just a day trip!