How to Hike the Raccoon Trail in Golden Gate Canyon State Park
If you're looking for a beautiful hike in Colorado that offers stunning views but is short enough to tackle on a weeknight, look no further than the Raccoon Trail in Golden Gate Canyon State Park.
Tim and I have hiked this trail multiple times and in multiple different seasons. It is our "go-to" hike in Golden Gate Canyon State Park. From the moment you set foot on the trail, you'll be surrounded by aspen groves, pine forests, and meadows full of wildflowers. The changing colors in the fall make for a particularly picturesque hike, but any time of year is a great time to explore this gem in the foothills of the Rockies.
In this blog post, we'll share everything you need to know to plan your own adventure on the Raccoon Trail, from how to get there to what to expect along the way. Join us as we journey along this beautiful path.
Where is the Raccoon Trail?
The Raccoon Trail is one of the most popular hikes in Golden Gate Canyon State Park. The park is located in the Rocky Mountains, about 30 miles west of Denver, Colorado. Because of its location near Denver and other large towns on the front range, Golden Gate Canyon is a popular destination for locals (us included!).
Tip: While in Golden Gate Canyon State Park, don't miss the hike to the historic John Frazer Cabin!
What are the Entrance Fees for Golden Gate Canyon State Park?
You need either a Colorado State Parks Annual Pass or a daily pass to visit Golden Gate Canyon State Park. Prices are below but check the Colorado Parks and Wildlife website for the most up-to-date information.
Daily Vehicle Pass: $10
Annual Pass: $80 (affixed) or $120 (hang tag)
Aspen Leaf Annual Pass (64+) : $70
You can pay for your park permit in the parking lot when you arrive. Look for the large signs with a payment machine. You'll want to make sure you hang your permit in your dash before you set off on your hike.
Raccoon Trail Parking Information
Parking for the Raccoon Trail is available at the Reverend's Ridge Campground and Raccoon Trailhead parking lot. On weekends, especially in the fall, the parking lot fills up quickly and stays busy all day long. Plan to carpool if you are going with friends or arrive early in the morning (around 7 am is usually a safe bet).
After you park, make your way to the back right perimeter of the campground to sync up with the Raccoon Trail. It is admittedly a little tricky to find, but follow the signs and your map and you will find it!
Raccoon Trail Description
The Raccoon Trail is a 3.4-mile loop trail with 730 feet of elevation gain that winds through the scenic forests and meadows of Golden Gate Canyon State Park. The trail is rated as moderate in difficulty, with some steep inclines and rocky terrain.
Once you are on the trail, you will hike through the forest for about a half-mile before you come to the junction where Raccoon Trail branches off into a loop to the north and south (left and right as you're hiking). Since it is a loop, you can go either way, but we usually go north (left) at the junction to save the best views for the last part of the hike.
Along the trail, you will get to hike past beautiful meadows and aspen groves, set beneath the rocky tops of the Rocky Mountains. The magnificent aspens are, in our opinion, the highlight of the Raccoon Trail!
About 2 miles into the hike, you will arrive at Panorama Point, one of the best views in all of Golden Gate Canyon State Park. Sure, you could have driven here and parked at the parking lot that is *right there* – but aren't you glad you hiked these undulating hills through some of the prettiest forests in the Front Range?
From Panorama Point, it's about another mile to complete the loop portion of the trail. Turn onto the Raccoon Trail off the loop and head back to the parking lot and trailhead from there!
When to Hike Raccoon Trail
To be honest, the Raccoon Trail is a great hike year-round, so you can't go wrong! That said, the best time of year to visit the Raccoon Trail is in the fall, in our opinion. During this time, the aspen trees along the trail begin to change color, transforming the surrounding forests into a vibrant display of yellows. Plus, the crisp air and clear skies also make for our favorite hiking conditions, with cooler temperatures and lower humidity.
Summer is also a great time to hike the Raccoon Trail, and is just high enough in elevation to beat the Denver city heat in summer.
In winter and early spring, the trail is covered in snow. Microspikes or snowshoes are helpful! Sometimes the snow can be deep, especially if it's fresh and hasn't been packed down by other hikers yet.
Flora and Fauna on the Raccoon Trail
Some of the common plant species that hikers may encounter along the Raccoon Trail include aspen, fir, spruce, and pine trees, as well as a variety of wildflowers and grasses. During the fall months, visitors can also see the leaves of these trees changing color, adding an extra level of beauty to the trail.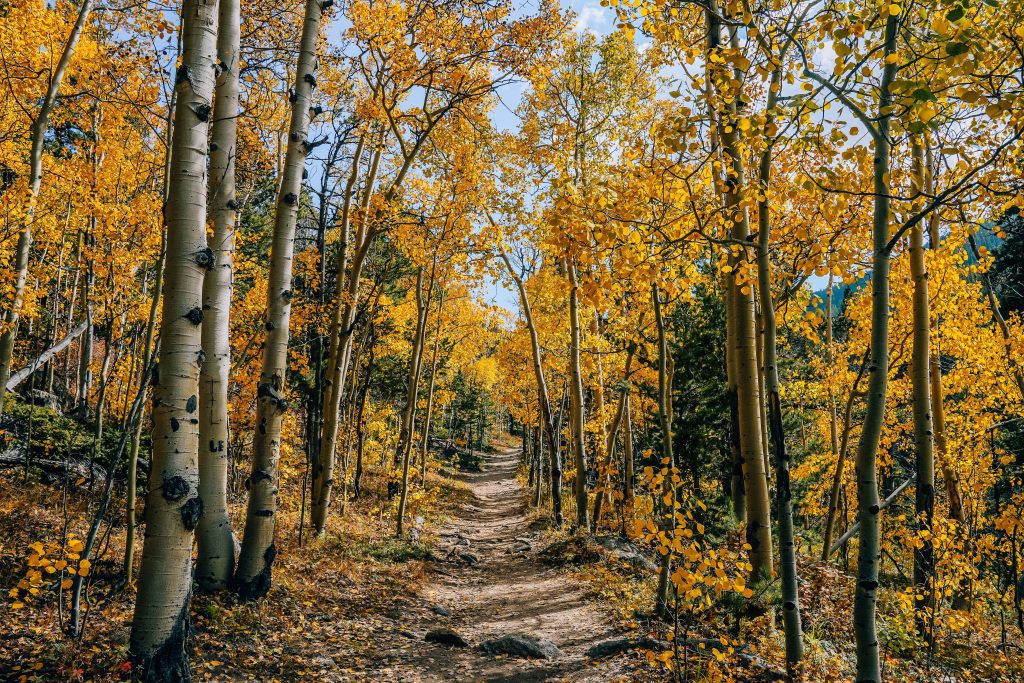 The park is home to a variety of wildlife as well, including elk, deer, black bears, mountain lions, and a variety of birds and smaller mammals. Visitors should always observe wildlife from a safe distance and avoid approaching or feeding any animals.
One notable species to watch for along the Raccoon Trail is the American pika, a small mammal that lives in the rocky slopes and talus fields of higher elevations. Pikas are known for their distinctive "eep" calls – cute, right?
What to Wear
Where to Stay Near Golden, Colorado
Check out these highly-rated (9 out of 10 or better!) and well-located hotel options in Golden, which is near the Raccoon Trail and Golden Gate Canyon State Park.
Guided Tours in Golden, Colorado
Booking a tour with a local guide is an excellent way to fully immerse yourself in all that Golden, Colorado has to offer. No matter your interest, whether it be hiking, mountain biking, rock climbing, or whitewater rafting, there's a tour catered to your desires. Check out some of the popular options and search for even more below!
Conclusion
The Raccoon Trail in Golden Gate Canyon State Park is a hidden gem that offers hikers a unique and unforgettable experience. From its stunning natural beauty to its rich history and culture, this trail has something for everyone. It's one of our go-to's and a trail we take visitors hiking for a reason!
While in Colorado, don't miss Rocky Mountain National Park! It's less than 2 hours from Golden Gate Canyon State Park.
See you out there!