20+ Awe-Inspiring Fall Activities in Colorado That Will Make You Fall in Love With Autumn in the Rockies
Leaf peeping, train rides, and fall hikes – oh my! This guide to the best fall activities in Colorado covers it all – from the unique to the iconic. If you're eager to make the most of this enchanting season, you're in the right place. This comprehensive guide is your ticket to discovering the best fall activities in Colorado, tailored to help you savor every moment of this vibrant time of year.
As Colorado locals, we've spent every fall chasing the top destinations and activities that define autumn in Colorado. From the dazzling displays of aspen leaves to the charming pumpkin patches nestled in the foothills, we'll lead you on a journey through the Centennial State's most captivating fall experiences.
Get ready to immerse yourself in the beauty, charm, and wonder that the fall season brings to this remarkable corner of the world through this comprehensive guide to Colorado's best fall activities!
Best Fall Activities in Colorado
1. Take a Scenic Fall Hike in an Aspen Forest
One of the best things to do in the fall in Colorado is to take a hike amidst the golden yellow aspen trees! Fall colors usually peak in the middle of September and last through the first week of October, so plan your fall hike during that time frame if you hope to see yellow aspen leaves! Some of the best parts of the state for fall hiking are Golden Gate Canyon State Park, Telluride, and Rocky Mountain National Park.
Looking for ideas on specific hikes to make the most of the fall colors? Check out our post on the best fall hikes in Colorado!
2. Drive one of Colorado's Scenic Byways to See Fall Colors
With 26 officially designated Scenic Byways in Colorado, you are spoiled for choice when it comes to taking a scenic drive to see fall colors! Whether you decide to admire the yellow aspens from one of Colorado's iconic passes, like Kebler, Kenosha, or Guanella Pass, or drive the scenic Peak-to-Peak byway connecting Black Hawk and Rocky Mountain National Park, you are sure to have a beautiful drive. You can read our comprehensive guide to the best scenic fall drives in Colorado here!
3. Ride a Historic Train Through Fall Foliage
As the leaves don their vibrant autumnal hues, Colorado's scenic train rides offer a captivating way to immerse yourself in the splendor of the season. From the historic Durango & Silverton Narrow Gauge Railroad, winding its way through the rugged San Juan Mountains draped in golden aspens, to the Leadville Railroad, where a historic train traverses mining routes under the watchful peak of Colorado's tallest mountain, Mt. Elbert, these journeys are a feast for the eyes. The Georgetown Loop Railroad, a marvel of engineering nestled in the Rocky Mountains, provides a spectacular view of fall foliage.
4. Listen for the Bugle of Rocky Mountain Elk
Fall is synonymous with the thrilling phenomenon of the elk rut, a captivating display of nature's raw power and primal instincts as male elk compete for mating opportunities. Head to Rocky Mountain National Park, particularly around Moraine Park and Horseshoe Park, for front-row seats to this awe-inspiring spectacle. The echoing bugles of bull elk reverberate through the crisp mountain air as they vie for the attention of their potential mates. Additionally, the San Juan Mountains, including places like Ridgway and Ouray, provide a picturesque backdrop for witnessing this ancient ritual.
Can't get far from Denver this fall? Head to Evergreen, where the local elk can frequently be seen grazing in people's yards or milling about the town's parks.
5. Check Out Fall Events at Botanical Gardens
Denver Botanic Gardens has special exhibits and events each fall to mark the season, including a Corn Maze at the Chatfield Farm location and Halloween-themed "Glow Before Dark" and "Glow at the Gardens" experiences at the York Street location. The annual Fall Plant and Bulb Sale at Denver Botanic Gardens is a highlight, drawing avid gardeners and plant enthusiasts seeking to enhance their own outdoor spaces. With its tranquil atmosphere and vibrant seasonal displays, a visit to Denver Botanic Gardens in the fall is a sensory delight, offering a serene escape into the heart of autumn in the Mile High City.
6. Go to a REAL Haunted House
As the crisp autumn breeze ushers in the season of falling leaves, Colorado offers a different kind of adventure for those seeking a thrill: haunted house tours. With a rich history and a reputation for ghostly encounters, the Centennial State boasts an array of spine-chilling locales open for exploration. From historical sites like the infamous Stanley Hotel in Estes Park, which inspired Stephen King's "The Shining," to the Molly Brown House Museum in Denver, where the spirit of the unsinkable Margaret Brown is said to linger, these tours promise a blend of history and hair-raising tales.
Or, tour one of the theatrical pop-up haunted house events throughout the state, like Denver's popular 13th Floor Haunted House or The Frightmare Compound, Denver's oldest commercial haunted house.
7. Pick Your Own Pumpkin at a Pumpkin Patch
Nestled amid the rolling hills and picturesque countryside, Colorado's pumpkin patches offer a quintessential fall experience. Places like Miller Farms in Platteville and Berry Patch Farms in Brighton open their gates, inviting visitors to wander through fields adorned with a vibrant sea of pumpkins. Some farms even offer additional attractions, like hayrides and corn mazes, making the experience a full-day affair.
8. Go Apple Picking
Colorado's apple orchards like Ya Ya Farm & Orchard in Longmont and Big B's Delicious Orchards in Hotchkiss offer a delightful escape into the heart of the harvest season. Rows of apple-laden trees stretch as far as the eye can see, inviting eager pickers to pluck the juiciest, crispest fruits. Beyond the picking, many orchards provide additional activities, from hayrides to cider tastings, ensuring a day filled with wholesome family fun.
9. Go on a Guided Fall Horseback Ride in the Rockies
The state's rugged terrain and scenic trails offer a captivating backdrop for a leisurely fall horseback ride. Ranches and outfitters such as National Park Gateway Stables in Estes Park and American Safari Ranch in Fairplay offer guided excursions through forests ablaze with golden aspens and along meandering mountain streams. Experienced guides lead riders through secluded paths, sharing insights about the local flora, fauna, and history, adding a rich layer to the experience. Whether you're a seasoned equestrian or a first-time rider, these tours cater to all levels of expertise.
10. Go on a Family-Friendly Hayride Tour
As autumn's golden touch sweeps across Colorado, hayride tours offer a nostalgic and charming way to embrace the season's splendor. Farms and ranches like Anderson Farms in Erie and Cottonwood Farms in Boulder welcome visitors for a quintessential fall experience. Some tours even include added attractions like corn mazes and pumpkin patches, ensuring a day filled with autumnal fun.
11. Get Lost in a Corn Maze at Anderson Farms
As the harvest season unfolds, Anderson Farms in Erie, just north of Denver, comes alive with a vibrant Fall Festival brimming with family-friendly activities and autumnal delights. This agricultural haven transforms into a festive wonderland, offering a cornucopia of experiences for visitors of all ages. Navigate intricate corn mazes, adorned with whimsical designs, or embark on hayrides through fields adorned with pumpkins of every shape and size.
At night, The Terror in the Corn haunted attraction caters to thrill-seekers looking for a spooky twist to their fall festivities.
12. Warm Up in Hot Springs
Colorado's hot springs beckon as an oasis of warmth and relaxation amidst the cooling weather. Whether you're seeking a serene soak beneath the open sky or a tranquil retreat in a rustic mountain setting, the state boasts an array of hot springs to suit every preference. Places like Strawberry Park Hot Springs in Steamboat Springs, Joyful Journey near Alamosa, and Iron Mountain Hot Springs in Glenwood Springs offer a rejuvenating escape, surrounded by nature's seasonal spectacle. The juxtaposition of warm, mineral-rich waters against the brisk fall air creates a truly enchanting experience. Imagine steam rising from the pools, mingling with the cool mist of the season, while the vibrant foliage frames the scene. It's a sensory delight that embodies the essence of autumn in Colorado.
13. Go on a fall camping trip in the Rocky Mountains
With cooler temperatures and fewer crowds, fall is an ideal time to pitch a tent or park an RV amidst the changing landscapes. From the rugged terrain of Rocky Mountain National Park to the serene aspen forests of Golden Gate Canyon State Park, Colorado offers a diverse range of camping options. The crisp mountain air carries the scent of fallen leaves, creating a soothing backdrop for evenings spent around a crackling campfire. Remember to pack warm layers, as temperatures can drop at night, and revel in the unique beauty of fall in the Centennial State. Also, note that hard-sided bear canisters are required for food and scented toiletry storage throughout the state!
Search campsites in Rocky Mountain National Park and Golden Gate State Park.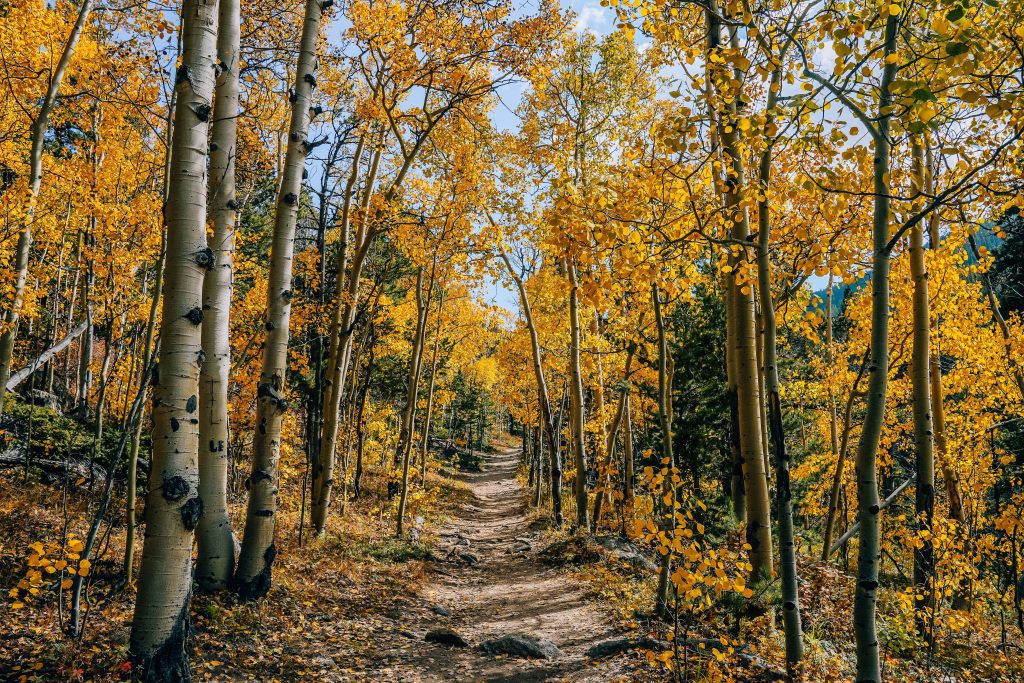 14. Explore an abandoned ghost town
Colorado is home to dozens of abandoned mining ghost towns, their empty and delapidated wooden structures all that remain to attest to the bustle that once thronged their dirt roads. Fall is a great time to explore a ghost town. Not only is the weather cool and mild, but there's no better time to explore a ghost town than spooky season! From the well-preserved streets of St. Elmo near Buena Vista to the weathered structures of Animas Forks or Ironton in the San Juan Mountains, each town tells a story of boom and bust, of dreams and faded glory. Wander through forgotten storefronts and dilapidated homes, imagining the lives that once bustled within these timeworn walls. The echoes of the past seem to linger among the weathered structures, creating an atmospheric journey through time.
15. See the fall foliage from the sky on a hot air balloon ride

Floating gracefully above the landscape in a hot air balloon, you'll witness the changing leaves of fall in all their glory, casting a mesmerizing carpet of reds, yellows, and oranges below. Operators like Rocky Mountain Balloon Rides in Longmont and Camelot Balloons in Vail offer breathtaking flights that capture the essence of fall. The cool, clear air enhances visibility, allowing for panoramic views of the surrounding mountains and valleys, offering a new perspective on Colorado's autumnal splendor.
16. Go fish
The cooler temperatures signal a change in the behavior of fish, making them more active and eager to feed. With fewer crowds on the water, fall is an ideal time to cast a line and enjoy the tranquility of Colorado's lakes, rivers, and streams. Whether you're fly fishing in the gold-medal waters of the South Platte River or seeking trophy trout in the Gunnison River, the state offers a diverse range of fishing opportunities. The stunning backdrop of fall foliage reflecting on the water adds a picturesque touch to the experience.
17. Go Mountain Biking
As the summer heat gives way to crisp autumn days, Colorado's mountain biking trails come alive with a new energy. The fall season offers riders a unique and exhilarating experience, with cooler temperatures and vibrant foliage adding a special touch to the adventure. From the rugged singletracks of Teocalli Ridge in Crested Butte to the adrenaline-pumping descents of the 18 Road Trails in Fruita, the state's diverse terrain caters to riders of all skill levels.
18. Kick Off the Ski Season Early
While the Colorado slopes are not yet fully covered in snow in the fall, some resorts, like Loveland and Arapahoe Basin, kick off their ski season in late October or early November, offering eager skiers and snowboarders the chance to carve turns on the early-season snow. These resorts utilize snowmaking technology to provide a base for early skiing enthusiasts. Skiing in the fall in Colorado is an opportunity to shake off the off-season rust and get a taste of the winter to come, all while enjoying the stunning mountain scenery before the snow blankets the peaks in earnest.
19. Celebrate Oktoberfest
Colorado comes alive with the vibrant festivities of Oktoberfest, a celebration deeply rooted in German tradition. Cities like Denver, Vail, and Steamboat Springs embrace this lively event with open arms, transforming their streets into lively hubs of music, merriment, and, of course, exceptional brews. Traditional beer gardens feature an array of German and local craft beers, while hearty cuisine like bratwurst and pretzels sate the appetites of revelers. Live music, often with polka bands setting the tone, infuses the air with infectious energy. Traditional dances, contests, and vibrant costumes add to the lively atmosphere. Oktoberfest in Colorado is a celebration of camaraderie and good cheer, bringing communities together to revel in the joyous spirit of fall.
20. Spice Up Your Life at Pueblo's Chile & Frijoles Festival
In late September every year, Pueblo, Colorado, comes alive with the lively Chile & Frijoles Festival, an event that pays homage to the region's rich agricultural heritage. This beloved festival, held annually, celebrates the harvest of Pueblo's famous green chiles and pinto beans. The streets of downtown Pueblo transform into a bustling marketplace, where local farmers and artisans showcase their bountiful produce and crafts. Visitors can sample an array of delectable chile-inspired dishes, from savory green chile stews to spicy chile rellenos. Live music, vibrant parades, and lively competitions add to the festive atmosphere.
21. Attend a Mountain Town Film Festival
September is a busy month for Colorado film festivals, which draw filmmakers, industry professionals, and movie lovers from around the world to revel in a diverse array of cinematic creations. Three to check out are the film festivals in Crested Butte (late September), Telluride (typically Labor Day Weekend), and Breckenridge (mid-September). These festivals offer a blend of screenings, panel discussions, and opportunities to engage with filmmakers, creating an immersive experience for cinephiles and industry professionals alike.
Final Thoughts on Best Fall Activities in Colorado
In conclusion, Colorado offers a plethora of activities and experiences that make it an ideal destination for those seeking to embrace the beauty of fall. From exploring vibrant foliage in Rocky Mountain National Park to indulging in pumpkin festivals and scenic drives, there is something for everyone to enjoy during this season. Whether you are a nature enthusiast, adventure seeker, or simply someone who appreciates the charm of small towns and local culture, Colorado has it all. So grab your camera, put on your hiking boots or cozy sweater, and get ready to create unforgettable memories amidst the stunning autumn landscapes of Colorado.
More Colorado Fall Guides: