Ultimate Guide to Lookout Mountain in Golden, Colorado
With its stunning panoramic views, historic landmarks, and numerous recreational activities, Lookout Mountain is one of Golden, Colorado's must-visit destinations for adventure seekers and nature lovers alike. Whether you're a seasoned hiker or simply looking for a scenic drive, Lookout Mountain offers something for everyone.
Tim and I first visited Lookout Mountain on a hike with friends in the fall of 2021. A year later we returned to explore the rest of what this Denver Mountain Park has to offer. We found that aside from hiking trails and breathtaking panoramic views over Golden and the Denver skyline, Lookout Mountain is also home to Buffalo Bill's grave and a museum about his life, a historic mansion, and a nature education center. We were impressed and surprised by how much there is to do there. You could make an entire day trip out of a visit to Lookout Mountain!
In this blog post, we cover everything you need to know about Lookout Mountain park, including everything to see and do and our local tips and recommendations!
About Lookout Mountain
Lookout Mountain stands over Golden at 7,377 feet above sea level and is a Denver Mountain Park (although it's not technically in Denver). The park sits nestled among several other regional parks and is part of an expansive trail network in Golden.
Because the park is only a half hour from Denver, is dog-friendly, and doesn't have an entrance fee, it's a popular spot for locals as well as out-of-towners.
You can hike, drive, or bike up to the top of Lookout Mountain. If you drive, be mindful of bikers! We saw over a dozen on the drive up Lookout Mountain Road, which is narrow with steep drop-offs at parts.
What to See and Do on Lookout Mountain
We were so surprised by how much there actually is to see and do on Lookout Mountain. If you want to visit somewhere on the
Lookout Mountain embodies the best of the Front Range, showcasing both its natural beauty and its history. It's a good choice if you want a very well-rounded Rocky Mountain experience. You have a lot of options for activities and can also learn quite a bit about the mountain's natural features and history. Especially if you're short on time on your visit to Golden, Colorado, Lookout Mountain can give you a little taste of everything.
So, without further ado, here are our recommendations for things to do on Lookout Mountain!
Explore the Hikes on Lookout Mountain
As avid hikers, we were obviously interested in learning about Lookout Mountain's hiking trails. Because Lookout Mountain park itself is quite small and surrounded by other regional parks, it benefits from a trail network that extends throughout Golden and links several locations. Because of the interconnected web of trails throughout the area, you can craft a hiking route from many starting points that ends on Lookout Mountain.
We're not going to get into every permutation you can design here, instead choosing to cut through the noise and share the most common routes.
| Trail Name | Distance | Elevation Gain |
| --- | --- | --- |
| Lookout Mountain Trail via Windy Saddle Trailhead | 2.9 miles | 524 ft |
| Beaver Brook Trail | 13.4 miles | 3,297 ft |
| Chimney Gulch Trail | 9.3 miles | 1,830 ft |
| Colorow Mountain Forest and Meadow Loop Trail | 1.6 miles | 131 ft |
Lookout Mountain Trail via Windy Saddle Trail: This trail is a moderate hike that offers stunning views of the surrounding area, including downtown Denver and the Front Range. The trailhead is located at Windy Saddle Park, and the hike is 2.9 miles round trip with an elevation gain of 524 feet. We hiked this trail with friends a few years ago and it's the perfect kind of trail for socializing while hiking. It's got that right balance of exertion and leisure!
Beaver Brook Trail: This is a challenging hike that traverses through various terrain types, including forests, meadows, and rocky outcrops. The trail is 13.4 miles round trip with an elevation gain of 3,297 feet. Hikers can expect to see beautiful vistas of the surrounding mountains and valleys.
Chimney Gulch Trail: This hike is a popular choice for mountain bikers and hikers alike. The trail is 9.3 miles round trip with an elevation gain of 1,830 feet. The trail winds through dense forests, steep canyons, and rocky outcroppings. Hikers will be rewarded with spectacular views of the surrounding mountains and Golden, Colorado.
Colorow Mountain Forest and Meadow Loop Trail: This is a short and easy hike that is suitable for families with children. The trail is 1.6 miles round trip with an elevation gain of 131 feet. The trail winds through dense forests and meadows, and hikers can expect to see wildflowers and wildlife along the way. The trailhead is located at the Colorow Trailhead near the Lookout Mountain Nature Center.
Note that all distances and elevations will vary depending on where you choose to start and end your hike. For Beaver Brook and Chimney Gulch Trails in particular, you can pick them up at several different points across several parks. Thus, the distances and elevations listed here are just one option for those trails.
Drive or Cycle the Lariat Loop Byway to Buffalo Bill's Museum and Grave
Take on the steep, winding Lariat Loop Byway by car or bicycle to the top of Lookout Mountain. The Lariat Loop Byway is a 40-mile route that allows visitors to retrace the early 1920s motoring adventures and experience the thrill of exploring foothills at the dawn of the Age of Motorcars. The byway was designated to the National Register of Historic Places in 1976 and takes its name from the historic Lariat Trail, a 5-mile road from Golden up the front of Lookout Mountain to Buffalo Bill's Museum and Grave.
Take in the Views at the Lookout Mountain Observation Deck
The Lookout Mountain Observation Deck next to the Buffalo Bill Museum provides stunning views of the Rocky Mountain Front Range and the Great Plains and is open to the public free of charge. We ended up spending a long time at the observation deck. There was so much to see facing east right in front of us, from downtown Golden and the Coors brewery, the Denver skyline in the distance, and the plains beyond. Looking west, we saw snow-capped peaks above the green foothills of the Rocky Mountains.
When you look out over the flat plains to the east and turn around to see the towering mountains to the west, you realize you are in a uniquely located spot on the border between the two. At that moment, standing on the top of one of the front-most mountains in the Rockies, we really understood and felt the dramatic transition from plains to peaks unfolding beneath our feet.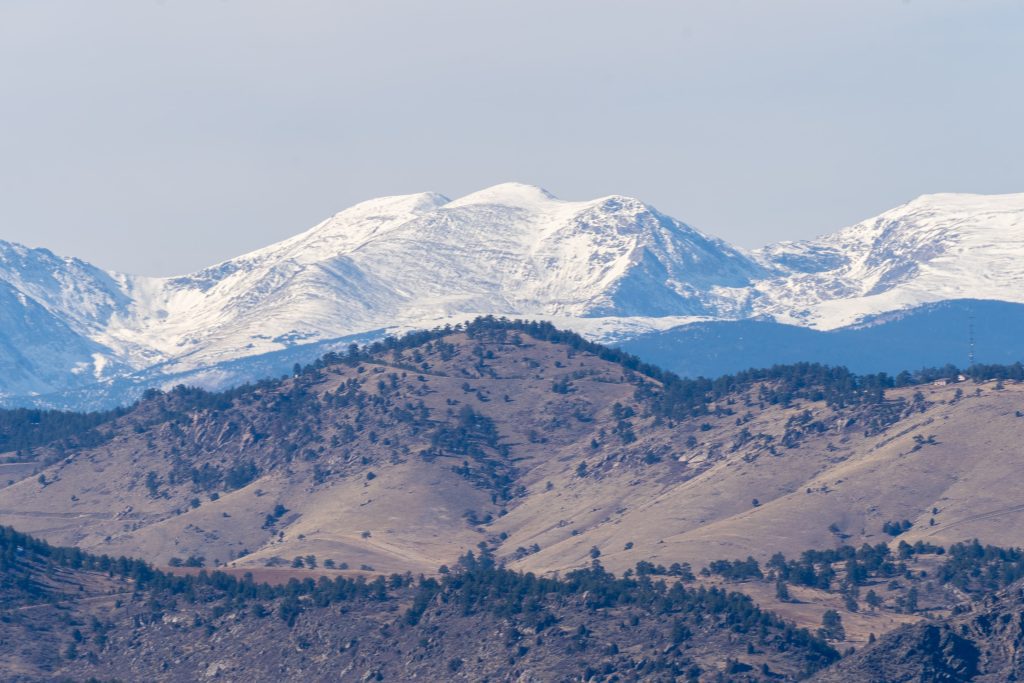 Visit Boettcher Mansion on a Self-Guided Tour
Aside from being a wedding venue dreams are made of, Boettcher Mansion is one of Lookout Mountain's fascinating historical sites.
The mansion was built in 1917 by Charles Boettcher, a prominent businessman, and philanthropist in Colorado. The mansion was designed by Denver architect Jules Jacques Benois Benedict and served as the summer residence for the Boettcher family.
The mansion's architecture reflects the Arts and Crafts style popular in the early 20th century, with features such as hand-carved woodwork, leaded glass windows, and stone fireplaces. The Boettchers also added numerous outdoor amenities, including a swimming pool, tennis courts, and a formal garden.
If you want to visit Boettcher Mansion, you can do a donation-based self-guided history tour during weekdays. Keep in mind that parts of the mansion might be closed for private events. We recommend calling ahead to check the availability.
Buffalo Bill Museum and Grave
The Buffalo Bill Museum on Lookout Mountain pays tribute to one of the most legendary figures of the American West, William F. Cody, better known as "Buffalo Bill".
The museum houses a fascinating collection of artifacts and memorabilia related to his life and legacy. Visitors to the museum can explore a wide range of exhibits, including displays of Cody's personal effects, such as his clothing, weapons, and personal items. The museum also features exhibits on the history of the American West, Native American culture, and the Wild West shows that made Cody a household name.
Tim and I watched the 20-minute film when we visited, and we recommend it. We learned a lot about Cody's role in the American West at large and his influence as one of the few men at the time who believed in and practiced equal pay for his employees regardless of race or sex.
Another highlight of the museum was the clothing station where you could try on western wear. Yeah, it was a little cheesy, but it was fun and that's what matters!
The Buffalo Bill Museum charges $5 for standard adult admission, with discounts available for kids, seniors, and the military. Check hours and current prices on the museum's website.
Tip: Buffalo Bill's Gravesite, located just outside of the museum, is free and does not require a museum entry ticket to visit!
Learn at the Lookout Mountain Nature Center and Preserve
The Lookout Mountain Nature Center features interactive exhibits that showcase the local flora and fauna, and it offers free naturalist-led programs for individuals, families, schools, and groups. Visitors can enjoy a walk through the nature preserve and kids can enjoy a hands-on play and observation room. Check out the educational programming schedule on the center's website.
Shop and Eat at the Pahaska Tepee Gift Shop and Café
The Pahaska Tepee Gift Shop and Café is a historic building located next to the Buffalo Bill Museum, and it was constructed in 1921 as a museum, café, and gift shop. We actually found one of the decorative Navajo pots we display in our kitchen at this shop! The café offers full grill service featuring buffalo burgers, chili, ice cream, root beer floats, and homemade fudge.
Hang Gliding at Lookout Mountain
For a major adrenaline-inducing adventure, book a tandem hang gliding experience with Hang Glide Colorado in Golden to soar like a bird over stunning landscapes. You'll get to fly through the air surrounded by the Rocky Mountains and the Denver skyline.
We haven't hang-glided here – yet! But we did hang glide once in Switzerland in 2015 and it was so much fun to feel suspended in midair. It's a unique way to see the views since you are literally IN the views!
Hang glide flights at Lookout Mountain last about 10 minutes and prices start at $225 per person.
Tip: Even if you don't want to hang glide, it's fun (and free) to watch the hang gliders from the Observation Deck!
Tips for Visiting Lookout Mountain
Bring plenty of water and snacks, especially if you plan to hike or bike the trails. The elevation can make you feel dehydrated and hungry more quickly than at lower elevations.
Bring sunscreen: At an elevation of over 7,000 feet, the sun can be intense on Lookout Mountain.
Consider visiting early in the morning or later in the afternoon to avoid crowds and enjoy cooler temperatures. The park is open from dawn to dusk, so plan your visit accordingly.
Take advantage of the free observation deck at the Buffalo Bill Museum and Grave, which offers stunning views of the Rocky Mountain Front Range and the Great Plains.
Respect the wildlife and natural environment by staying on designated trails and packing out any trash you bring in.
Bring layers of clothing, as the weather can change quickly at higher elevations. Even in the summer, it's a good idea to bring a jacket or sweater.
Take some time to explore the history of the area, including the Buffalo Bill Museum and Grave, Boettcher Mansion, and the Lariat Loop Scenic Byway.
Where to Stay in Golden, Colorado
Check out these highly-rated (9 out of 10 or better!) and well-located hotel options in Golden:
Final Thoughts on Lookout Mountain
This hidden gem just outside of Golden is a must-do for nature lovers and thrill-seekers alike. Whether you're a hiker, biker, or hang glider, Lookout Mountain has something to offer you.
While you're in Golden, don't miss Golden Gate Canyon State Park! Our ultimate guide to the park has everything you need to know.
And, if you have time to stay a while, make sure you check out Rocky Mountain National Park! It's less than 2 hours from Golden and truly one of the most beautiful national parks in the US. We are so thankful to have it in our backyard!