Embark on These 12 Breathtaking Colorado Fall Hikes for 2023
If you are currently manifesting an autumn spent amidst the breathtaking beauty of golden aspen leaves during a fall hike, look no further. We've meticulously crafted a list of the best Colorado fall hikes, tailor-made for adventurers like you!
While Colorado might not claim the same level of attention as renowned autumn hotspots like New England, it's an unsung hero in the world of fall hiking. The allure lies in its prolonged peak color phase, a gift from the state's diverse elevations and landscapes.
Drawing from years of wandering through Colorado's autumnal wonderland, we've curated a collection of our favorite fall hiking trails. We're excited to share the magic that is "Fall-orado" with you via this guide to the most epic Colorado fall hikes for 2023! Let's dive in.
Colorado Fall Hikes
Please Respect Our Aspen Trees – Do Not Carve On Them!
While hiking in Colorado, you will likely notice many trees that have been carved into by other visitors. Please do not do this, as it permanently scars the tree and creates irreparable damage. Finding un-scarred aspen trees is getting more difficult as increased visitation leads to increased misbehavior. Keep these Colorado fall hikes pristine for years to come!

>>> Learn more about responsible outdoor adventuring at Leave No Trace.
1. Abyss Trail
Abyss Trail Basic Info
What makes the Abyss Trail a great Colorado fall hike
The Abyss Trail is one of our favorite Colorado fall hikes we've done, if not our absolute fave! Not only will you hike through a wonderland of aspen trees, you'll cross crystal-clear rivers, trek along scenic ridges, and end at Helm's Lake, a beautiful alpine lake nestled beneath the towering 14er peaks of Mount Bierstadt and Mount Evans.
The trail starts on a wide, mostly flat dirt trail in an aspen tree forest. After about 3 miles, you'll come to an opening in the forest to a large open space where the river meanders towards the snowcapped mountains. This is what we consider your first "big" view on the hike. Many hikers choose to turn around here since the first three miles provide great fall foliage peeping without the steep and long climb up to Helm's Lake.
---
If you do continue on to Helm's Lake, as we did, be sure to stay on the trail so as not to damage the fragile alpine environment.
---
If you have more stamina still, you can continue past Helm's Lake another 2.5 miles and 1000 feet of elevation all the way to Abyss Lake, for which the trail is named.
Tip: The Abyss Trailhead parking lot fills up very early. Plan to arrive by 7 am during peak fall colors in order to obtain a parking spot. Parking on the road (Guanella Pass) is only allowed in limited areas and is marked with signs. Please do not park on the road in an unauthorized location, as this creates dangerous driving conditions and blocks emergency vehicles from getting in quickly when needed.
2. BB to Reiling Dredge to Minnie Mine
BB to Reiling Dredge to Minnie Mine Trail Basic Info
What makes the BB to Reiling Dredge to Minnie Mine Trail a great Colorado fall hike
There is just something about the abandoned wooden mining structures against the backdrop of gold aspen leaves that is extra-photogenic, and that's why the BB to Reiling Dredge to Minnie Trail is one of the best Colorado fall hikes. We love this short and easy hike through aspen forests and various historical mining sites. The BB to Reiling Dredge to Minnie Mine trail starts close to downtown Breckenridge, which makes it one of the easiest-to-access Colorado fall hikes!
One of the highlights of this trail is seeing the old gold mining dredge from the early 1900s. Up until fairly recently, the Reiling Dredge was slowly sinking in the water. Now, a team has stabilized the structure to prevent future decay.
Once you leave the dredge, you'll cross a short bridge and once again enter an aspen forest. This is the most impressive portion of the trail for seeing the fall foliage. You will be surrounded on both sides by dense aspen trees, and on a breezy day, this creates the perfect conditions for a "main-character-moment" walking through a blizzard of dancing aspen leaves falling all around you.
3. John Frazer Cabin
Mule Deer Trail to John Frazer Cabin Trail Basic Info
What makes the Mule Deer Trail to John Frazer Cabin a great Colorado fall hike
John Frazer Cabin is one of the most charming, photogenic, and yet relatively unknown Colorado fall hikes in Golden Gate Canyon State Park. Several trails in the park lead to this historic cabin, and we recommend taking the Blue Grouse Trail to John Frazer Cabin, which is the trail Tim and I took!
The hike to John Frazer Cabin starts at the Kriley Pond Picnic Area, with some mild switchbacks as you gain elevation. As you hike along the trail, don't miss the views from the switchbacks of the surrounding mountains, including Mount Evans and the Indian Peaks.
At the intersection of the Blue Grouse Trail and the Mule Deer Trail, turn right onto the Mule Deer Trail. This will lead you straight to the John Frazer Cabin and Frazer Meadow.
This entire trail is surrounded by aspen trees, so you will be amongst the fall foliage non-stop on the hike to John Frazer Cabin. Enjoy!
>> Read our detailed guide to hike the Mule Deer Trail to John Frazer Cabin
4. Raccoon Trail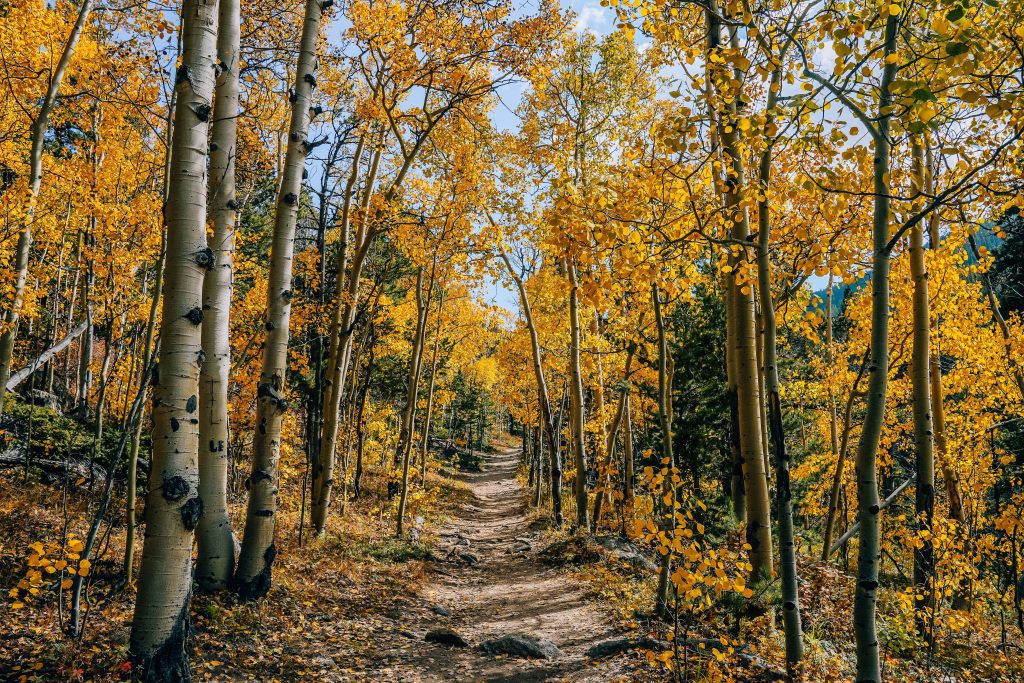 Raccoon Trail Basic Info
What makes the Raccoon Trail a great Colorado fall hike
The most popular of the Colorado fall hikes located in Golden Gate Canyon State Park is the Raccoon Trail. Although the crowds mean planning to arrive extra early to the trailhead to snag a parking spot, the Raccoon Trail stays busy during peak fall foliage for good reason. With several aspen groves along the trail and gentle elevation, hikers of a wide range of abilities will be able to enjoy the autumn aspen trees on the Raccoon Trail.
In addition to hiking amongst countless aspen trees, the Raccoon Trail also features Panorama Point, one of the most impressive views in Golden Gate Canyon State Park. From here, you get a bird's eye view of the forest, including pops of yellow aspen groves amidst the evergreens.
The trailhead parking for the Raccoon Trail reaches capacity by 9 am on peak fall foliage weekends, so plan to arrive early!
>>Read our detailed guide to hiking the Raccoon Trail in Golden Gate Canyon State Park.
5. Loch Vale
Loch Vale Trail Basic Info
What makes Loch Vale a great Colorado fall hike
The hike to Loch Vale in Rocky Mountain National Park is great any time of year (we've done it!), but is especially beautiful in the fall. The first half-mile of the trail is lined with aspens, which turn golden yellow every fall.
The trail to Loch Vale passes Alberta Falls, one of the prettiest waterfalls in RMNP, before eventually arriving at Loch Vale, a beautiful alpine lake surrounded by mountains. If you are feeling ambitious and want a longer hike, continue on the trail to Sky Pond, arguably one of the best hikes in the park!
>> Read our complete guide to hiking Loch Vale here.
6. Three Lakes Trail (Lost Lake Campground)
Three Lakes Trail Basic Info
What makes Three Lakes Loop a great Colorado fall hike
Aside from featuring three gorgeous alpine lakes, stunning mountain views, and a waterfall, the Three Lakes Loop Trail near Crested Butte is also one of the best places to see fall colors. The Lost Lake Campground, where the hike begins, is dotted with aspen trees, as is the pleasant, not-too-to-steep loop hike around the lakes.
As a bonus, you'll get to drive the iconic Kebler Pass on your way to the trailhead. Kebler Pass is one of the best scenic drives in Colorado, particularly in the fall. The road is surrounded by dense aspen forest!
Tip: Kebler Pass has several dispersed campsites along the road. We parked our Sprinter van in a pull out on the road next to a grove of aspen trees. This road gets crowded during peak foliage season, so be flexible with your plans if no campsites are available.
7. American Lake
American Lake Trail Basic Info
What makes American Lake a great Colorado fall hike
Where better to see aspens turning yellow than in Aspen, Colorado? The hike to American Lake is a great place to do just that. Although the trail is steep in many sections, the trek is worth it since you will be surrounded by aspen trees for several miles on your way to the lake!
Plus, unlike the Maroon Bells (also in Aspen), you do not need a permit to park at the American Lake trailhead. This makes it a great alternative, and a longer hiking option, than the more popular and crowded Maroon Bells.
8. Crystal Mill
Crystal Mill Trail Basic Info
What makes Crystal Mill a great Colorado fall hike
Crystal Mill is one of the most photographed locations in all of Colorado, and it is especially beautiful in fall when the aspens flanking on either side of the mill turn golden yellow. The historic mill is surrounded by aspen trees and sits next to a small waterfall on the Crystal River.
The trail to Crystal Mill is a shared 4×4 road, so you will need to share the road with vehicles. It can get pretty dusty when a vehicle passes, so bring a bandana or face mask to keep dirt out of your nose and mouth.
The trail follows the river through aspen trees the entire way to Crystal Mill. When you arrive, enjoy the views of this iconic location from the road. Crystal Mill is on private property, and visitors are not permitted to hike down to the river level.
Access to the river at Crystal Mill used to be allowed, but as of 2023 is no longer permitted. Sadly, too many visitors did not respect the fragile structure, climbing into it and leaving behind trash. The owners made the difficult decision that in order to protect the mill, visitors could no longer go down to the river.

We are grateful we had the opportunity to visit before this rule was put into place, and we respect the owners' decision. We hope you will also respect this fragile historic site on private property by staying on the road (not going under the rope to access the river or mill) and packing out all of your food scraps and trash from your hike.
9. Maroon Bells Scenic Loop
Maroon Bells Scenic Loop Basic Info
What makes Maroon Bells a great Colorado fall hike
Hiking Maroon Bells in the fall ranks high on many people's Colorado bucket list. With dense aspen forests framing Colorado's most-photographed peaks, it's easy to understand why people flock here throughout the year, and especially in fall. Notably, you don't even need to really hike to get to the iconic view of the Maroon Bells over Maroon Lake. That view will greet you right when you start at the trailhead. Still, the best foliage is further into the trail as it meanders into the forest!
Because of the Maroon Bells' fame and how accessible it is to visit, it's rightfully one of the most popular Colorado fall hikes there is! In order to keep visitation sustainable, the Aspen Chamber has implemented a reservation process for those who plan to park at the trailhead or take the park-and-ride shuttle.
If you plan to park at Maroon Bells, or to take the shuttle, you will need to obtain a reservation online in advance via the Aspen Chamber. If you have a bike or can rent one in downtown Aspen, a better option is to bike to the trailhead! Bikes are exempt from the reservation rules, so this is the best way to visit if you can't get a reservation!
10. Upper Piney River
Upper Piney River Trail Basic Info
What makes Upper Piney River a great Colorado fall hike
Getting to the trailhead and ranch entrance is an adventure itself – a 45-minute drive on a rough dirt road. Once you're at the parking lot, you'll spot the peaceful upper Piney Lake and the start of the trail. As you head out on this trail and come back, get ready for some truly amazing views. The waterfall is at its best in late spring and summer when the river is flowing fast, but the fall season has its own charm with colorful leaves covering the landscape.
The trail takes you through Piney River Ranch, a private area, until you get to the wilderness boundary. Please stay on the trail to respect the property. It's worth noting that the ranch offers places to stay and camp, which adds extra convenience and comfort to your adventure. If you want more info on this, check out: www.pineyriverranch.com.
11. Royal Arch
Royal Arch Basic Info
What makes Royal Arch a great Colorado fall hike
Fall colors pop in abundance at Chautauqua Park near downtown Boulder, Colorado. Because you can easily get to the trailhead from the city, we think Royal Arch is one of the best Colorado fall hikes, especially since it is accessible to many!
Royal Arch is an impressive rock arch overlooking Boulder and the plains stretching east from the Rocky Mountains. Because of the lower elevation here, any of the trails in Chautauqua Park are a great option for later in the fall season when the aspen leaves at higher altitudes in the mountains will have already fallen.
12. Lost Lake Via Hessie Trailhead
Lost Lake Basic Info
What makes Lost Lake a great Colorado fall hike
Located near the hippie mountain town of Nederland, Colorado, the hike to Lost Lake via the Hessie Trailhead is a must-do Colorado fall hike. This trail is a great place to enjoy the fall foliage and features a waterfall, lake, and historic Hessie Townsite ruins, all in a relatively short distance.
Hikers often see moose when hiking here, as well, so be on the lookout! Do not approach any wildlife and keep a safe distance from moose, elk, deer, and any other animals you see while hiking.
Tip: The best time to visit Lost Lake is early in the mornings, when moose may be drinking in the lake and a moody mist hovers over the water's surface.
Final Thoughts on the Best Colorado Fall Hikes for 2023
Wherever you base yourself during the fall season in Colorado, there are plenty of spectacular Colorado fall hikes to choose from for savoring the glorious color change! This round-up of the best Colorado fall hikes is based on our own personal experience hiking in Colorado every fall for the last several years!
We hope you love and appreciate the glory of Colorado's aspen forests as much as we do. Happy Trails!
Share this guide to the best Colorado fall hikes with your friends and plan your adventure today!