How to Hike to Lake Haiyaha in 2023
If hiking to Lake Haiyaha in Rocky Mountain National Park is on your bucket list, you've come to the right place! Whether you've hiked Lake Haiyaha in the past or not, now is the best time to hike Lake Haiyaha if you haven't seen it since the June 2022 rockslide at Hallett Peak turned the water bright blue-green!
As Colorado locals, we visit Rocky Mountain National Park often and have become experts on the best hikes in RMNP! Tim and I hiked to Lake Haiyaha in the summer of 2023 to see how it would compare to when I hiked to Lake Haiyaha in the summer of 2022, just a few months after the rockslide that transformed Lake Haiyaha's color.
We created this up-to-date guide to cover everything you need to know about the Lake Haiyaha hike in 2023, from national park permits to typical trail conditions, and of course, a current report on the lake's unique color! 
So let's get into it! Here's everything you need to know about the Lake Haiyaha hike in 2023!
Lake Haiyaha Hike Trail Basics
Distance Round Trip: 3.9 miles
Estimated Time: 2 hours
Trailhead Elevation: 9,475 feet (2888 meters)
Lake Haiyaha Elevation: 10,240 feet (3121 meters)
Lake Haiyaha Hike Elevation Change: 865 feet (264 meters)
Hike Difficulty: Moderate
Lake Haiyaha Hike Trail Summary
This guide is based on the route from Bear Lake Road Trailhead to Lake Haiyaha via Bear, Nymph, and Dream Lakes. There are other routes you can take to get to Lake Haiyaha, but this is the most common one. PS – we share the other combinations under FAQs below!
Bear Lake Trailhead
The hike starts at the Bear Lake Trailhead and parking area. There are toilets here and a ranger station. If you have any questions about your hike, conditions that day, or anything else, definitely stop and chat with one of the rangers! They have so much information they can share with you.
To your right when you start the trail is a short path that goes to Bear Lake. Sunrise here is particularly beautiful when the sun lights up Hallett Peak behind the lake. Whether it's at the start or the end of your hike to Lake Haiyaya, definitely be sure to make the tiny detour to Bear Lake!
From Bear Lake, it's about a half mile of mostly flat hiking to Nymph Lake.
Nymph Lake
Nymph Lake is especially picturesque. If it's a still day with no wind, the reflection of the forest and mountains in the lily-pad-laden lake is perfect! That said, it's the least impressive of the lakes on this trail, so ration your time accordingly.
Ascent to Dream Lake
From Nymph Lake the trail continues another half mile, mostly uphill, to Dream Lake. Be sure to look to your left part way up the ascent for views down over Nymph Lake. You'll start to see more mountain views along this part of the trail, and the terrain gets rockier.
When you get to Dream Lake, there is a wooden sign pointing the way to Dream Lake (to the right) and Lake Haiyaha (to the left). It's a short walk to Dream Lake from here. Even if you aren't going to detour all the way to Emerald Lake, it's worth a quick stop at Dream Lake. It's the most picturesque of the lakes on the Emerald Lake trail in our opinion. I always stop and take lots of photos there!
If you're planning to go to Emerald Lake on your way back toward the trailhead from Lake Haiyaha, skip Dream Lake for now. You'll pass it on your way to Emerald Lake later.
Ascent to Lake Haiyaha
After taking the trail to your left at the Dream Lake junction, it's a steady climb for about a mile. The trail narrows as it climbs and the drop-off is somewhat intimidating. You have plenty of room to not be near the edge, though, so don't worry!
When the climb levels off, you'll enter a forest. You'll get your first glimpse of Lake Haiyaha's milky teal water when you cross the small bridge over a stream. Soon after that, you'll cross a river on a long bridge. This spot is especially picturesque and felt like something out of a fairy tale. It was so peaceful listening to the sound of the glacial blue water meandering around patches of green boggy terrain. This is my favorite part of the hike to Lake Haiyaha.
Destination: Lake Haiyaha
Shortly after the river crossing, you'll see a lot more boulders. To get to the lake, you'll need to hike and climb over some of the boulders. Just use them like stairs and watch your steps. When in doubt, use three points of contact (aka, use your hands as well as your feet) to navigate the rocks.
Soon you'll see Lake Haiyaha in front of you. Take in the water's stunning teal color, unique to this part of Rocky Mountain National Park since the 2022 landslide that deposited silt into the lake.
On a clear day, you'll be rewarded with views of Hallett Peak over the lake. Look closely in that direction and you can see the debris from the rockslide on the slope.
I spent about an hour at Lake Haiyaha. I ate a bagel, chatted with some hikers visiting Colorado from out of state, and took photos from various parts of the lake. The rocks here are abundant and large, so everyone has room to spread out and relax on a rock of their own!
Optional: Detour to Emerald Lake
On your way back to the trailhead, it's worth a detour past Dream Lake to Emerald Lake. Emerald Lake is one of the most iconic in the national park, with views of Hallett and Flattop Peaks towering over the lake. The reflection of the peaks in the lake is beautiful if you're able to catch it on a clear and still day!
In general, the lakes in Rocky Mountain National Park are usually calmer in the mornings. Thunderstorms also typically come in every afternoon in the summer, so this is another reason to time your visit early in the mornings.
Lake Haiyaha Hike Trail Map
Frequently Asked Questions about the Lake Haiyaha Hike
Why Did Lake Haiyaha Turn Green in 2022?
On June 28, 2022, a landslide of debris ranging from small pebbles to large boulders tumbled down the south slope of Hallett Peak. This event deposited rocks and silt into Chaos Canyon and Lake Haiyaha. This silt is what creates the milky blue color in Lake Haiyaha. If you had visited Lake Haiyaha prior to June 2022, it would have had the same watercolor as other nearby lakes like Dream or Emerald.
Fun fact: the same process of grinding rocks into silt that happened in this rockslide is how glaciers grind rocks down to dust. It's called "glacial flour". This is why glacial lakes have a teal color, too!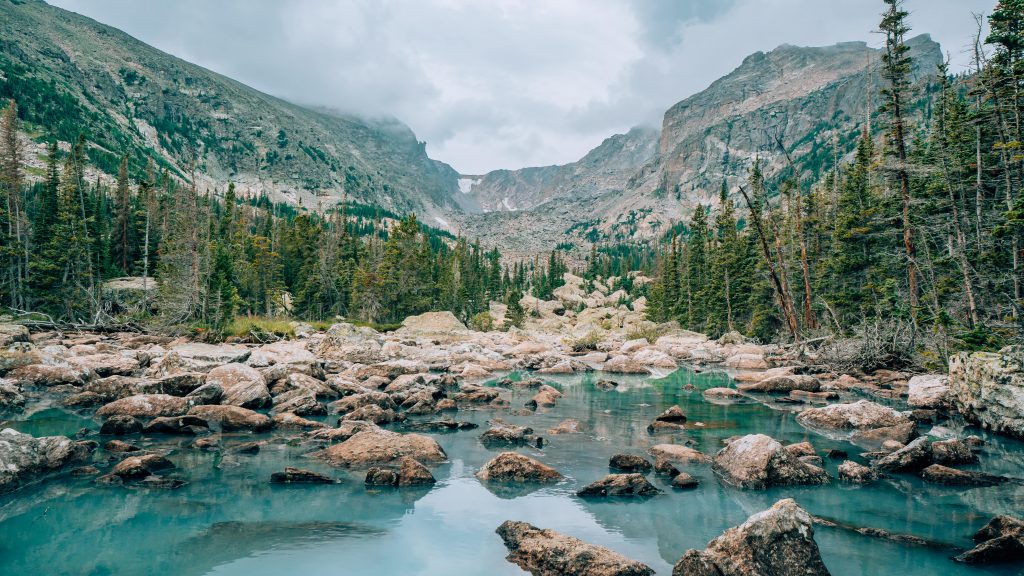 Is Lake Haiyaha Still Green in 2023?
Okay let's get right to it – what does Lake Haiyaha look like NOW, in 2023? Well, I hiked Lake Haiyaha in both 2022 and 2023, so I can tell you exactly how the colors compare.
In general, the color of Lake Haiyaha in 2023 is more tropical, translucent, and bluer than in 2022. As the silt continues to dissipate, the lake will gradually return to its pre-2022 color (which resembles the other lakes on Bear Lake Road). Immediately after the landslide in 2022, by contrast, Lake Haiyaha took on an opaque greenish hue.
Even if you hiked Lake Haiyaha in 2022, I think it's worth it to hike it again in 2023, since the color has changed yet again, and will continue to evolve on its path back to "normal"!
Where does Lake Haiyaha get its name? What is the meaning of "Haiyaha"?
"Haiyaha" (pronounced Hi-ya-ha) is a Native American Arapahoe word that, depending on the translation, means "rock" or "lake of big rocks". Lake Haiyaha is indeed very rocky and the terrain leading up to the lakefront on the trail requires a bit of boulder scrambling. Don't worry, it's nothing technical and we share more info later in this guide on how to prepare. But suffice it to say, it's pretty obvious when you see all of the boulders scattered throughout the lake why it earned its name "Haiyaha".
Where is the trailhead to Lake Haiyaha?
You can get to Lake Haiyaha from Bear Lake trailhead or Glacier Gorge trailhead in Rocky Mountain National Park. From Denver, Colorado to the Lake Haiyaha Trailhead takes 2 hours, depending on traffic.
The hike to Lake Haiyaha from Bear Lake is the shortest option. Both of these trailheads are in the Bear Lake Road corridor, meaning you need a timed-entry permit or hiker shuttle permit in addition to standard park entry if you are visiting in summer months between 5 am and 6 pm. Both of these permits are described in detail below.
You also need to pay for entrance to Rocky Mountain National Park which is $30 per vehicle for one day, or $35 per vehicle for 7 days. Alternatively, if you have a national parks pass you do not need to pay the entrance fee, but still need the timed-entry pass.
What is the parking like for the Lake Haiyaha hike?
The best place to park for hiking to Lake Haiyaha is the Bear Lake trailhead. This is the most direct and shortest hike to Lake Haiyaha, and you'll also get to see Bear, Nymph, and Dream Lakes all on the way to Haiyaha.
Your other for parking inside the national park is to park at the Glacier Gorge trailhead, which is just about a mile from the Bear Lake Trailhead on Bear Lake Road. There are fewer spots available at this parking lot compared to the Bear Lake trailhead.
Both lots are known to fill up fast. We don't recommend arriving any later than 9 am if you hope to park in either lot.
You can also park your car outside of Rocky Mountain National Park at the Estes Park visitors center and take the hiker shuttle to the Bear Lake trailhead. Make sure to reserve this shuttle in advance at recreation.gov.
Do I need a timed-entry permit to hike Lake Haiyaha?
Because both parking options for Lake Haiyaha are on Bear Lake Road, if you're visiting during the spring/summer/fall months, you need a timed-entry permit for Rocky Mountain National Park that includes Bear Lake Road (Option 1 on Recreation.gov). Dates vary each year, and for the latest information check the official reservation site.
If you don't want to or are unable to obtain a timed-entry permit, you can enter the park outside of the reservation time window. For Bear Lake Road, this means you would need to be parked at the trailhead by 5 am or after 6 pm. Otherwise, you can reserve a spot on the hikers' shuttle, which will pick you up at the Estes Park visitor center and drop you off at your trailhead of choice.
Lake Haiyaha Hike Trail Length
If you park at the Bear Lake parking lot and hike directly to Lake Haiyaha and back again without adding on any other detours is 4 miles round trip with approximately 850 feet of elevation gain. It's a fairly easy hike in our opinion in terms of length and elevation, though AllTrails rates it "moderately challenging" due to the effects of altitude on those who aren't acclimated to the elevation, as well as the aforementioned rocky terrain that gives Lake Haiyaha its name! It takes an average of 2 hours to complete, but we recommend allocating more time if you want to add on any of the adjoining trails we describe below!
You can also park at the Glacier Gorge parking area and hike to Lake Haiyaha from there. This route is 7 miles with 1,231 feet of elevation gain, making it a more difficult and of course lengthier route.
How long is the hike to Lake Haiyaha if combined with Emerald Lake?
Ok, so you can totally go to JUST lake Haiyaha and have an epic time. However, if you parked at the Bear Lake parking area, we recommend combining the hike to Lake Hiayaha with the hike to Emerald Lake.
This is the most popular option for hiking Lake Haiyaha, and definitely delivers the highest reward for your efforts. It adds an additional 1.2 miles to your overall hike, bringing it to 5.2 miles overall, but is well worth it. Because the trail to Lake Haiyaha from Bear Lake goes past Nymph and Dream Lakes anyway, you may as well go all the way to Emerald Lake to complete an amazing 5-lake loop.
Don't miss our blog post about hiking to Emerald Lake for more details on this stretch of the trail!
How long is the hike to Lake Haiyaha if combined with Loch Vale?
If you park at the Glacier Gorge Trailhead, you can combine a hike to Lake Haiyaha with a stop at the beautiful Loch Vale lake on the way. From Lake Haiyaha, you can go back the way you came for a 6-mile round trip hike, or loop over to Bear Lake via Dream Lake and back to Glacier Gorge for a 5.7-mile loop.
Other trail combinations with Lake Haiyaha Hike

The graph below shows you all of the different destinations you can combine on this trail network and the distances for each. As you can see, there are so many ways to combine Lake Haiyaha with other destinations in the Bear Lake Road area.
Are dogs allowed at Lake Haiyaha?
Nope! Dogs are not allowed on any trail inside Rocky Mountain National Park. If you are bringing your pup to the park, please know that your furry friend will be limited to staying in your vehicle or on a leash in parking areas only.
When is the best time of year to hike Lake Haiyaha? Can you hike Lake Haiyaha in winter?
The best time to hike to Lake Haiyaha is definitely summer or fall. Spring is also a good time to hike to Lake Haiyaha, but the ground may be muddy or even snowy if the snow hasn't melted yet. In the summer, aim to be back to the trailhead before noon to beat the typical afternoon thunderstorms common in the Rocky Mountains in June, July, and August.
While people do choose to hike to Lake Haiyaha in winter, we don't recommend it since this area is in an avalanche risk zone.
What to Pack and Wear on Your Lake Haiyaha Hike
Guided Tours in Rocky Mountain National Park
Looking for a guided experience in Rocky Mountain National Park? Check out some of these tours you can book to help you make the most of your time in RMNP without the hassle.
Where to Stay in Estes Park
We recommend basing yourself in Estes Park when visiting Rocky Mountain National Park. Here are some well-rated hotel options in Estes Park, which is just a few miles from the Beaver Meadows entrance station to RMNP.
Luxury
Midrange
Budget
Click here to search for additional hotels in Estes Park or search below!
Final Thoughts on the Lake Haiyaha Hike
Lake Haiyaha is truly the prettiest lake in Rocky Mountain National Park ever since the rockslide of 2022 that caused the lake to turn glacial teal. If you're visiting Colorado, this lake absolutely belongs are your bucket list, and with 4 other beautiful lakes easily viewable from the same trail, we think the hike to Lake Haiyaha delivers the best reward-to-effort ratio!
For more information about the Emerald Lake portion of this hike, check out our blog post all about hiking to Emerald Lake from the Bear Lake trailhead. Looking for more difficult hikes? Sky Pond and Chasm Lake are two of our favorites. If you're visiting Rocky Mountain National Park in the summer, a drive on Trail Ridge Road, the tallest continuous paved road in the United States, is well worth a half-day!
Lastly, don't forget to prep for your trip by buying a national parks pass, and reserving your timed-entry permit or hiker's shuttle.