The Ultimate Colorado National Monument Itinerary for One Epic Day
Wondering what should be on your Colorado National Monument itinerary if you only have a day there? We got you. Nestled outside of Grand Junction on Colorado's western slope, Colorado National Monument is just one of those places that inspires an incredible sense of smallness in comparison to its grandeur.
Dramatic canyons and towering red rock cliff walls comprise Colorado National Monument's landscape, while Bighorn sheep frequent the cliffsides. The impressive road winding through the park, Rim Rock Drive, frequently lands on "world's scariest drives" lists. And for those wanting to get off the main road and into the wilderness, there are plenty of hiking trails leading to epic vistas and into the depths of the Monument's canyons.
While you could easily spend several days exploring the Monument (as it's called) the great news is that you can see the highlights in just one day.
This one-day itinerary for Colorado National Monument covers all the best viewpoints and short hikes to do on scenic Rim Rock Drive, as well as sunrise and sunset destinations! We promise this itinerary to Colorado National Monument will make the most of your one precious day there.
Need-to-Know Park Info
We'll get into the one-day Colorado National Monument itinerary in a jiffy but first, there is some need-to-know info about the Monument we should cover.
Where is Colorado National Monument?
Colorado National Monument is in western Colorado, near the city of Grand Junction. If you are arriving to Colorado by airplane, Grand Junction Regional Airport is the closest airport to fly into. Delta, United, Allegiant, and American Airlines currently serve GJT.
There is no public transportation for Colorado National Monument, so having your own car or renting one is a must!
Colorado National Monument Entrance Fees
Like most parks in the US National Park system, Colorado National Monument charges an entrance fee to visit. For one vehicle, the fee is $25. For a motorcycle, it's $20 and for bikers or hikers, the fee is $15. Each permit is good for one week.
There's a better way, though. We recommend buying a National Parks Pass (aka America the Beautiful Pass) every year, which grants entry to over 2,000 national park locations in the US at no additional charge beyond the initial pass. It pays for itself in 3-4 park visits.
One Day Colorado National Monument Itinerary
For this one-day Colorado National Monument itinerary, you'll want to spend the night before your explorations nearby so you can get an early start the next day! We recommend packing a breakfast to eat picnic-style during or after sunrise and a lunch pack with a hearty sandwich. There aren't any food options within the park itself, so to avoid leaving midday to find food and then coming back, it's just easier if you self-cater your breakfast and lunch for the day!
Sunrise at Grand View
Start your day with sunrise at Grand View on Rim Rock Drive. Allow about 30 minutes to get to Grand View from downtown Grand Junction. You'll have to drive a few miles of curvy Rim Rock Drive in the dark before sunrise. It's not a dangerous drive per se, but do be sure to use your lights and drive carefully as the road navigates along the cliffs!
Grand View is one of the best places to see the sunrise in Colorado National Monument, with impressive views in every direction.
Towering on the cliffs 300 feet over Monument Canyon, Grand View's fenced overlook showcases Monument Canyon, Independence Monument, and Grand Valley.
We actually have a photo from our sunrise at Grand View on a large aluminum print hanging in our living room above the stairs!
Be sure to stay on the fenced portion of the overlook. It's dangerous to scramble out onto any of the rocks or ledges below.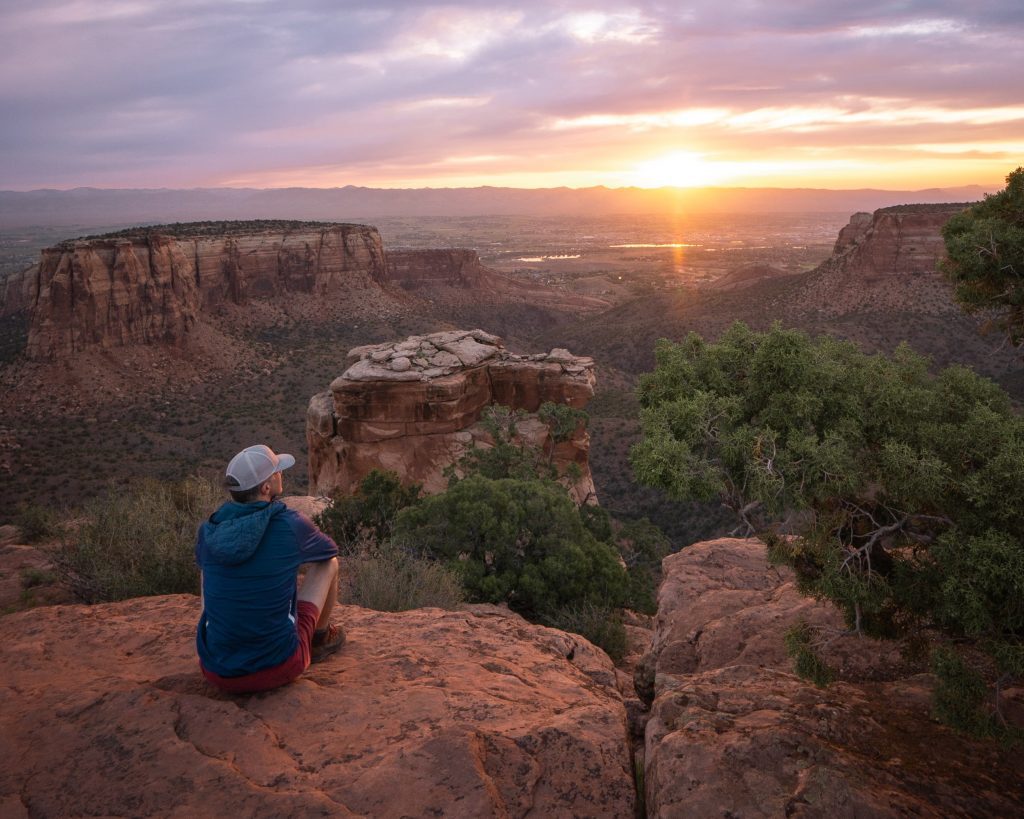 Balanced Rock Overlook
After sunrise, you're going to get back in your car and return to the western end of Colorado National Monument. Okay, yes, you're backtracking, but hear me out. Because it was dark when you first drove into the park, there are a lot of amazing things you couldn't see. So we recommend doubling back so you can see them!
Start with Balanced Rock, a 600-ton Wingate sandstone rock perching on a narrow pedestal over Rim Rock Drive. This is one of the most unique geological features in the Colorado National Monument. Bonus: it is also a fairly common place to spot Bighorn sheep.
Fruita Canyon Overlook
The next overlook we recommend visiting is the Fruita Canyon Overlook. This is the best view in Colorado National Monument of Rim Rock Drive itself, and it's cool to see the road winding its way through the canyon up to where you stand at this overlook!
Visitors Center
The Saddlehorn Visitors Center is worth a stop if only to use the nice restrooms and fill up your water bottle. However, it also has a great exhibit about the park's geology and wildlife and a gift shop that supports nature conservation and education.
Window Rock Trail
Window Rock Trail is the first of 4 short hikes we recommend doing on your one-day itinerary in Colorado National Monument. The trail is a fairly flat half-mile round trip walk to an overlook of the canyon and the unique window rock in particular. Allow about 30 minutes for this stop.
Otto's Trail
The next stop is Otto's Trail, another short hike along Rim Rock Drive. Otto's Trail leads to one of the most majestic views in the park. The hike is a 1-mile round trip. You can see Sentinel Spire, Pipe Organ, Praying Hands, and Independence Monument rock formations from Otto's Trail. Be sure to read our blog post about hiking Otto's Trail for more information. Allow about 45 minutes for this stop.
Independence Monument View
Independence Monument is one of the most iconic features of the Colorado National Monument. This is also where John Otto, the park's first ranger, also started the annual 4th of July tradition of climbing the monolith and placing an American flag on top. The tradition continues today, with over a hundred rock climbers ascending Independence Monument each year.
PS: Now is probably a good time for your picnic lunch!
Coke Ovens Overlook and Trail
After your lunch, head to the Coke Ovens Overlook and trail. The beehive-shaped rock formations earned their name thanks to their resemblance to the coke ovens historically used in coal production. You can see these strange hoodoos from the Coke Ovens Overlook, but for the best view, head down the 1-mile round trip Coke Ovens trail below the canyon rim. Allow about 45 minutes for the Coke Ovens Trail.
Fallen Rock Overlook
The Fallen Rock Overlook is one of my favorite viewpoints in Colorado National Monument. Here, you can see the piece of the collapsed cliff wall that fell off the rock face, ultimately resting in a jumble beneath the canyon rim. It's a poignant reminder that even nature's most permanent-seeming features are also temporary and ever-changing. Wow!
Ute Canyon Overlook View
The last scenic overlook you should prioritize in your one-day Colorado National Monument itinerary is the Ute Canyon Overlook View. Many consider this to be one of the most spectacular views in the Colorado National Monument! Across the canyon to your left, look for the two rock windows and arches in the Wingate sandstone cliff's face.
Sunset hike at Devils Kitchen
By now it's hopefully late afternoon or close to it! Your last stop of the day is the Devils Kitchen Trail. This is our favorite hike we've done in Colorado National Monument. Even if you only have one day in the Monument, we think you should hike Devils Kitchen!
The trail is about 1.5 roundtrip, but you can meander quite a bit in the canyon and through the rocks. We clocked out closer to 2 miles (and also got somewhat lost). Make sure you read our blog post on Devils Kitchen Trail so you don't make the mistake we did!
If you can time your hike with sunset or golden hour, you'll be well-rewarded with the canyon's golden glow.
Dinner in Grand Junction
After hiking Devils Kitchen, it's time for dinner. Here are some recommendations we ate at and loved!
Handlebar Tap House
This burger and brews establishment is super close to the eastern entrance of Colorado National Monument, where you'll be exiting. The vibe is very casual, so it's perfect for coming straight out of the park. We recommend the Gunny Greek and Endo Black and Bleu burgers!
Guru's Kitchen
If you like Indian food, make sure you visit Guru's Kitchen on Grand Junction's Main Street. We especially love the butter chicken dish! Afterward, stroll up and down Main Street for a sense of what Grand Junction is all about.
There are many great restaurants in Grand Junction, so you're sure to find something you'll enjoy!
Where to Stay Near Colorado National Monument
For this one-day itinerary in Colorado National Monument, we recommend spending two nights nearby. The first night should be the night before your visit to CNM, so you can wake up early and catch the sunrise in the Monument. The second night would be the evening and the night after your day of adventures in the park. This allows you to see a big of Grand Junction and get dinner in town before moving on to your next destination.
There are a lot of options for where to stay near Colorado National Monument. Saddlehorn Campground is your best option within the park, and the towns of Palisade, Grand Junction, and Fruita are all good options just outside the park.
Saddlehorn Campground
Saddlehorn Campground within Colorado National Monument is definitely the most convenient location to stay when visiting CNM. The campground is located near the Saddlehorn Visitors Center, on Rim Rock Drive itself. You can check Saddlehorn Campground reservations and availability online.
Hotels in Fruita, Palisade, and Grand Junction
Fruita, Palisade, and Grand Junction are all excellent bases for a trip to Colorado National Monument. Fruita and Grand Junction hug either end of CNM, and Palisade is just outside Grand Junction and a great choice for those who want to see Colorado's wine country as well.
Grand Junction Hotels
Palisade/Wine Country Hotels
Fruita Hotels
What to Pack for Colorado National Monument
Since this one-day Colorado National Monument itinerary covers both a bit of hiking as well as Rim Rock Drive, you need to prepare and pack for both the scenic drive and the hikes. Here's what we recommend:
One Day Colorado National Monument Itinerary Map
This map covers every location listed in this one-day Colorado National Monument itinerary. The blue icons are viewpoints, the orange ones are hikes, and the green ones are shopping and food.
Final Thoughts on This Colorado National Monument Itinerary
This one-day itinerary covers the best viewpoints and hikes in Colorado National Monument. If you only have one day, this is how you should spend it. If you have more time, consider stopping at all of the stops on Rim Rock Drive, or embarking on some bigger hikes.