Ultimate Guide to Driving Jaw-Dropping Rim Rock Drive Scenic Loop
Driving scenic Rim Rock Drive is a must-do activity for any Colorado National Monument trip itinerary! And not just because you literally have to since it's the main road in the park. If you're looking for jaw-dropping scenery, wildlife, epic hikes, and even a bit of an adrenaline rush, then Rim Rock Drive is the adventure for you!
The 23-mile paved road connects Fruita in the west to Grand Junction in the east via Colorado National Monument, winding through twists and turns along the high canyon rims. There are over a dozen hiking trailheads on Rim Rock Drive, and just as many scenic overlooks.
If you do nothing else in Colorado National Monument, make sure you at least do the scenic drive on Rim Rock Drive! Whether you have a full day or only a few hours, our guide to Rim Rock Drive has everything you need to know to make the most of one of the best scenic drives in Colorado!
Why We Love Rim Rock Drive
Anyone of any age and physical ability/mobility level can enjoy the Rim Rock Drive
Rim Rock Drive Connects the best hikes and sites in the park
The road provides the best opportunities for viewing wildlife, particularly big horn sheep who graze on the cliffs over the road.
Dizzying cliff-edge views provide some of Colorado's most awe-inspiring views!
Scenic Stops on Rim Rock Drive
The best thing to do at Colorado National Monument is to stop at all the scenic viewpoints on Rim Rock Drive! Here is a list of every viewpoint on the entire road, listed in the order you will come to them driving Rim Rock Drive from west to east.
If you are short on time and only have time to visit a few overlooks, we recommend these as your best choices: Balanced Rock Overlook, Fruita Canyon Overlook, Independence Monument View, Grand View Overlook, Coke Ovens Overlook, Fall Rock Overlook, Ute Canyon Overlook View, and Cold Shivers Point.
Along the way, you'll get to drive through fun tunnels as you wind along the canyon rim, taking in spectacular views the whole way.
You'll find more details on all of these viewpoints and many more listed in this comprehensive guide to each scenic stop on Rim Rock Drive.
Colorado National Monument Sign
The first stop as you enter the park is the Colorado National Monument. Okay maybe it is a little cheesy, but why not take a picture with an iconic rustic National Park Service sign to kick off your adventure?
Balanced Rock View
You will want to stop and check out this 600-ton Wingate sandstone rock perched seemingly precariously over Rim Rock Drive. It seems to defy gravity on its narrow pedestal, and perhaps one day it will erode away or fall off. For now, however, it is one of the most unique geological features in the Colorado National Monument. Bonus: this is a great place to spot Bighorn sheep.
Historic Trails View
The Historic Trails Overlook sits above Grand Valley and the Colorado River. This is an interesting place to stop and learn about the Fruita Dugway. An interpretative board explains how the historic 1907 trail was once used by early ranchers to move cattle up the monument.
Grand Valley Overlook and Distant View
A small pullout features views of the valley in the distance. You can start to get a sense of the scale of the canyon and the impressive nature of Rim Rock Drive by this point. But, there isn't too much to linger around to see here, so you can skip it if you're short on time!
Fruita Canyon View
This is one of our favorite views in the Monument, because of how much of Rim Rock Road you can see down below as it horseshoes its way through the canyon and winds up to where you stand at the Fruita Canyon View.
Saddlehorn Utility Area Historic District
The Saddlehorn Utility Area Historic District is an area of National Park Service buildings constructed in 1941 by the same individuals who built Rim Rock Road. The historic utility area sits at the intersection of Rim Rock Road and the Saddlehorn Loop. There isn't much to see here as a visitor to the park, however, so we didn't stop.
Book Cliffs View
Many visitors, us included, consider the Book Cliffs View to be one of the most awe-inspiring along Rim Rock Road. The Shelter, like other historic buildings in Colorado Monument, was built by the Civilian Conservation Corps (CCC). If getting married in the Monument is on your bucket list, this is definitely the spot to do it.
Saddlehorn Picnic Area and Campground
The Saddlehorn Picnic Area has picnic tables, charcoal-only grills, and restrooms. The views here are amazing, so it's a perfect place to enjoy a picnic lunch with an epic vista of the canyon.
The Saddlehorn Campground is Colorado National Monument's only established campground, with 80 sites.
Colorado National Monument Visitor Center
Colorado National Monument's Visitor Center features interactive displays, an auditorium, and an audio guide. Like the Saddlehorn Utility Area, the visitor center was also built by the Civilian Conservation Corps (CCC) and is one of the park's historical buildings. Proceeds from the bookstore and gift shop inside the Visitor Center support education and scientific research.
Independence Monument View
Independence Monument, named by the park's first advocate and park ranger John Otto, is one of the most iconic features of the Colorado National Monument. Otto also started the annual 4th of July tradition of climbing the monolith and raising an American flag on top of it. Today, hundreds of rock climbers ascend Independence Monument every year, following in Otto's footsteps (and handholds).
Grand View
Grand View provides one of the best views of Monument Canyon, Independence Monument, and Grand Valley. The fenced overlook is just a short walk along a dirt path from the parking area. Towering on the cliffs 300 feet over Monument Canyon, Grand View lives up to its name.
Naturally, Grand View is one of the best locations in the Colorado National Monument for photography. This is a great place to photograph sunrise, sunset, and afternoon golden hour. Just be sure to stay on the fenced portion of the overlook and do not attempt scrambling out onto any of the rocks or ledges below for the sake of a photo!
This is an excellent place to look for peregrine falcons and other birds nesting and hunting near the canyon walls.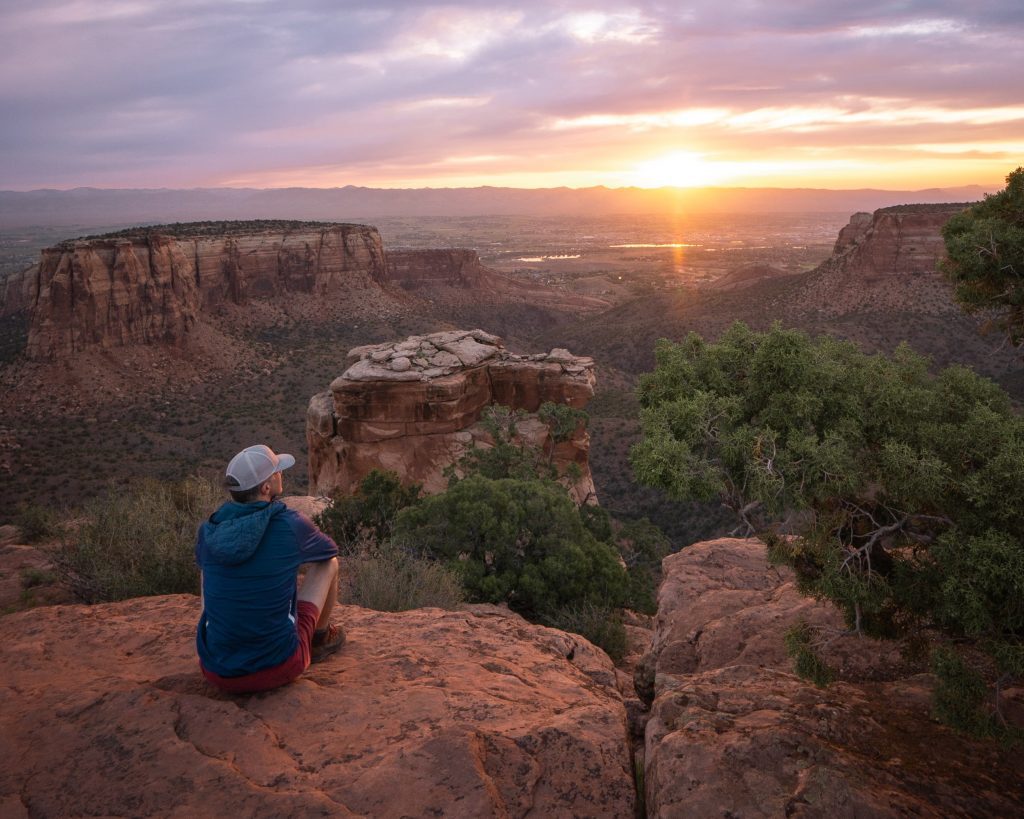 Monument Canyon View Overlook
The Monument Canyon View Overlook provides a great vantage into the canyon below. You can also see the Monument Canyon Trail meandering across the canyon floor. Otherwise, there's not much to see here aside from what you've already seen at previous stops. That being the case, we think this is a skippable stop on Rim Rock Drive.
Coke Ovens Overlook
The Coke Ovens View Overlook features mysterious rock formations shaped like beehives, the result of erosion. The "ovens" earned their name from their unique shape, resembling the ovens historically used in coal production. If you're up for a short but rewarding hike, check out the Coke Ovens Trail for a closer view of the odd formations.
Artists Point View
Artist's Point earns its name from its vibrant hues, the result of chemical and biological impacts over the course of many millennia. In either direction, you can see the rock that comprises the Morrison Formation and its red and black coloration.
Highlands View
The Highland View overlook is the highest viewpoint on Rim Rock Drive over Monument Canyon. This is a great place to see – what else – the highlands of the Book Cliffs and Roan Cliffs in the distance. This is also a good place to get a sense of the layering of various rock layers and formations over billions of years!
Upper Ute Canyon View
The Native American Ute tribe, for whom Ute Canyon is named, lived in Colorado National Monument into the 1800s. Ute Canyon is one of the deepest canyons in the Monument, so this view is particularly dramatic with its hair-raising cliffs.
Fallen Rock Overlook
We think Fallen Rock Overlook is one of the most unique in Colorado National Monument. It doesn't matter how beautiful the canyons are, stop after stop of similar views does get a bit tiresome after a while! That's what makes Fall Rock Overlook so cool. You can actually see where a chunk of the cliff calved off the rest of the rock and settled into a jumble at the base. It's a powerful reminder that geology is always alive and changes the landscape. Sometimes it takes billions of years, and sometimes it happens in an instant!
Ute Canyon Overlook View
Many consider the Ute Canyon Overlook View to be one of the most spectacular in the Colorado National Monument! And we agree this is one you do not want to miss. Across the canyon to your left, look for the two rock windows and arches in the Wingate sandstone cliff's face.
Red Canyon Overlook
The next step on Rim Rock Road is Red Canyon, an especially unique canyon in Colorado National Monument. Geologists call this kind of canyon a "hanging canyon" or a "canyon within a canyon", which is the result of the uplift of the Colorado Plateau.
You can think of Red Canyon as like two canyons in one. Looking out from the overlook, you can see a U-shaped canyon, as well as a smaller v-cut on the canyon floor near the middle. This is the second canyon and what makes red canyon a "hanging canyon".
Cold Shivers Point Overlook
Overlooking one of the monument's smaller canyons, Columbus Canyon, the Cold Shivers Point Overlook is a dramatic view perched at the edge of a 300-foot tall cliff. You'll see why it got its name!
Hiking Trails on Rim Rock Drive
Window Rock
0.5-mile roundtrip
This short and easy hike leads to an overlook of the aptly-named Window Rock. This is one of the many arches that exist in this part of the United States. In fact, the area surrounding Colorado National Monument has the second-highest concentration of rock arches in the world next to Arches National Park. If you think Window Rock is cool, and are up for a bigger adventure, be sure to check out the Rattlesnake Arches hike!
Canyon Rim Trail
1-mile roundtrip
The Canyon Rim Trail begins at the Saddlehorn Visitor Center, right behind the building. This is a very popular trail for photographers, for both landscape and wildlife photography. The Canyon Rim Trail provides amazing views of the canyon.
Alcove Nature Trail
1-mile roundtrip
The Alcove Nature Trail starts directly across Rim Rock Drive from the Saddlehorn Visitor Center. The flat trail ends at an alcove in a box canyon. This trail is particularly good for kids!
Otto's Trail
1-mile roundtrip
For such a short hike Otto's Trail delivers awe-inspiring views! You can see Sentinel Spire, Pipe Organ, Praying Hands, and Independence Monument rock formations from Otto's Trail. Be sure to read our blog post about hiking Otto's Trail if you plan to do this on your Colorado National Monument Trip!
Coke Ovens Trail
1-mile roundtrip
The Coke Ovens Trail is the most unique short trail in on Rim Rock Drive, due to the unique geological formations you will see. The beehive-shaped "ovens" are not ovens at all, but rather rocks that have eroded into their odd shape, which resembles the coke ovens used in coal production historically. Don't miss our blog post on the Coke Ovens Trail for some not-to-be-missed tips!
CCC Trail
1.5 miles roundtrip
The CCC Trail is not marked on Google Maps as such. Instead, you should track your odometer driving east 3.8 miles from the Saddlehorn Visitor Center. The trailhead will be on your right, and the parking pullout will be on your left. The CCC Trail also connects to Black Ridge Trail.
Devils Kitchen Trail
1.5 miles roundtrip
Our personal favorite hike in Colorado National Monument is the Devil's Kitchen. The trailhead and picnic area are the last pullouts you will come to on Rim Rock Road. If you have time for an approximately 2 mile out and back hike to the Devil's Kitchen, we highly recommend it! Just make sure you read our Devils Kitchen hiking guide so you don't make the same mistake we did at first!
There is also a picnic area with potable water, bathrooms, and shade!
Serpents Trail
3.5 miles roundtrip
The Serpents Trail is the original road for tourism in Colorado National Monument. John Otto actually built this road, at first as a foot and horse path, and later expanded for carriage and automobile access. This is the road that Rim Rock Drive ultimately replaced. Serpents Trail is now one of the most popular hikes in the Colorado National Monument.
Here's a fun fact. Early cars to use Serpents Trail drove up the trail backward due to the vehicles' gravity-fed fuel systems. Take a look at the twists and curves and imagine trying to reverse your way up the road!
Backcountry Hiking Trails on Rim Rock Drive
Black Ridge Trail
11 miles roundtrip
The Black Ridge Trail has the honor of being the highest trail in Colorado National Monument. The trailhead starts at 5,790 feet above sea level and the trail ascends to 6,730 feet at its highest point. From there, you can see west all the way to Utah and the canyonlands and south to Colorado's San Juan Mountains. To your east, is the sprawling Grand Valley.
Monument Canyon Trail
12 miles roundtrip
The steep Monument Canyon trail descends from Rim Rock Drive down to the floor of the canyon. Within the majestic canyon walls, you'll be hiking among Colorado National Monument's most iconic features, like Independence Monument, Kissing Couple, and the Coke Ovens.
You can also do this as a one-way 6-mile hike from the upper trailhead to the lower trailhead if you have a car meet you at the lower trailhead.
Liberty Cap Trail
14 miles roundtrip
The Liberty Cap Trail is fairly challenging, ascending steeply for two miles from the Grand Valley floor to the domed top of Liberty Cap.
Ute Canyon Trail
14 miles roundtrip
The Ute Canyon Trail is another steep trail that descends deep into the Narrow Ute Canyon. It's a primitive trail and you'll get to see desert flora like cottonwoods and willows. Keep your eyes out for arches, as well! Note this is an unmaintained trail, so do your research and be prepared!
Old Gordon Trail
8 miles roundtrip
This fairly easy trail gradually but steadily climbs along the Old Gordon Trail, a path that was historically a lumber and cattle drive road. Along the way, you will get to see Colorado National Monument's iconic rock layers which are exposed along the trail. In spring, this is a great trail for seeing blooming cacti.
No Thoroughfare Canyon Trail
17 miles roundtrip
A strenuous, full-day hike, a trek on the No Thoroughfare Canyon Trail is not for the faint of heart. Most trekkers do not complete the entire round-trip hike. The National Park Service recommends all hikers to No Thoroughfare Canyon bring a compass and a Colorado National Monument topographic map. The trail is unmaintained after the second waterfall, and dangerous flash floods are a real risk whenever there is rain in the forecast.
FAQs about Rim Rock Drive
Does Colorado National Monument Charge an Entrance Fee?
Yes, there is a fee of $25 per vehicle to enter Colorado National Monument. If you're on a motorcycle, it's $20, and if you are walking or biking, it's $15. Alternatively, you can enter without a fee if you have an annual National Parks Pass!
Can I bike Rim Rock Drive?
Yes! Biking is really popular on Rim Rock Drive and in the Grand Junction and Fruita area as a whole thanks to the unique rock formations. Just be very cautious of vehicles on Rim Rock Drive, especially on narrow parts of the road overlooking the canyon.
What should I bring to Rim Rock Drive?
For a scenic drive on Rim Rock Drive, here are the basics essentials you should have in your vehicle:
How long does it take to drive Rim Rock Drive?
If you don't make any stops and just drive through, you will spend about an hour on Rim Rock Road. If you stop at every scenic overlook but don't do any hikes, expect to spend about 2 hours on Rim Rock Road. If you plan to do any of the hikes along Rim Rock Road, we recommend estimating about 30 minutes per 1 mile of hiking to you can plan your time accordingly.
Is Rim Rock Drive dangerous?
Although windy, cliff-hugging, and regularly landing a spot on "scariest roads" lists, Rim Rock Drive is not inherently dangerous. That said, use obvious caution and obey the speed limits. In particular, you should watch for bicyclists, fallen rocks, and wildlife on the road. Big horn sheep tend to kick rocks when they scale up and down the cliffs they call home, so it's common to see a smattering of rocks along the road near their habitats. Additionally, if it's been rainy, watch for rock slides. Park rangers as well as the park's official website will have information on current conditions and any closures.
Where should I stay near Rim Rock Drive?
Here are some recommended hotel options in Grand Junction and Fruita:
There are a lot of options for where to stay near Rim Rock Drive and the Colorado National Monument. Saddlehorn Campground is your best option within the park, and the towns of Palisade, Grand Junction, and Fruita are all good options just outside the park.
Saddlehorn Campground
Saddlehorn Campground within Colorado National Monument is definitely the most convenient location to stay when visiting CNM and driving Rim Rock Drive. The campground is located near the Saddlehorn Visitors Center, on Rim Rock Drive itself. You can check Saddlehorn Campground reservations and availability online.
Hotels in Fruita, Palisade, and Grand Junction
Fruita, Palisade, and Grand Junction are all excellent bases for a trip to Colorado National Monument. Fruita and Grand Junction hug either end of CNM, and Palisade is just outside Grand Junction and a great choice for those who want to see Colorado's wine country as well.
Grand Junction Hotels
Palisade/Wine Country Hotels
Fruita Hotels
Are there gas stations on Rim Rock Drive?
No! You should arrive with enough gas to cover the entire 23 miles of Rim Rock Drive, since there are no gas stations located inside Colorado National Monument. You can get gas before or after your drive in either Fruita or Grand Junction.
Are dogs allowed on the trails on Rim Rock Drive? Cats?
No! Pets are best left at home when visiting Colorado National Monument. They can be in your car for the scenic trip on Rim Rock Drive, but cats and dogs are not allowed on any of the hiking trails or backcountry areas.
What is the history and construction of Rim Rock Drive?
Colorado National Monument was established in 1911, and the following year, construction began on the first rough-cut automobile road in the monument and was completed 9 years later in 1921. Now known as Serpent's Trail, this rough road of switchbacks is what Rim Rock Drive ultimately replaced, making the old road a popular hiking trail you can still hike today.
The Rim Rock Drive was initially mapped out in 1931 by a National Park Service engineer named Thomas W. Secrest. The following year in 1932, in partnership with the National Park Service Brand of Engineering and Branch of Plans and Design, the design was completed. In keeping with the National Park Service Rustic style guidelines, the designers laid out the plans for Rim Rock Drive to deliver maximum scenic impact. Nearly a hundred years later, the wow factor remains.
One of the most important Depression-era infrastructure projects in the United States, Rim Rock Drive was constructed almost entirely with manual labor from over 1,000 men in the Civilian Conservation Corps, Works Progress Administration, and Public Works Administration. The project required drilling and blasting through solid rock, making it one of the most notable engineering feats of its time.
Although the construction project was stalled briefly during WWII from 1942 to 1948, the road was completed in 1950.
The entire road is a designated historic district on the National Register of Historic Places as of 1994.
What is the Geology of Rim Rock Drive?
Rim Rock Drive connects the eastern city of Grand Junction to Fruita in the west via a windy 23-mile paved road. For a sense of scale, the point-to-point distance between Grand Junction and Fruita is only 8 miles in a straight line.
Rim Rock Drive follows along the rims of several red rock canyons within Colorado National Monument, including Red Canyon, Ute Canyon, and Monument Canyon. Towering over 2,000 feet above the Colorado River and Grand Valley, Rim Rock Drive sits on the northern end of the great Uncompahgre Plateau with unrivaled views of the park's rock formations and the Book Cliffs.
What Wildlife Can You See on Rim Rock Drive?
It's very common to see wildlife in Colorado National Monument! The most common animal you're likely to see along Rim Rock Drive is the bighorn sheep. With their large horns and sleek coat, it's easy to mistakenly think these animals are goats but don't be fooled! Big horn sheep like to hang out on cliffs and grazing areas. They are most active at dawn and dusk but can be seen anytime. This is another reason it's super important to drive cautiously in the Monument!
You also are likely to see golden eagles and canyon wrens for all you birders out there. Mule deer are also local residents you may meet while exploring Rim Rock Drive.
Map of Rim Rock Drive
Here's a helpful map we made of all the scenic stops (blue pins), short hiking trails (green pins), and backcountry trails (yellow pins) on Rim Rock Drive!
Final Thoughts on Rim Rock Drive
Rim Rock Drive is one of the best things to do in Colorado National Monument! We loved spending the day stopping at each of the overlooks, doing the short hikes, and overall just admiring the magnificent red rock canyon scenery nestled in this western Colorado bucket list destination!
Be sure to check out our other guides on Colorado National Monument so you can have the best adventure in this iconic place!